Herbalife USA Sales Leader Numbers Down 50% Over The Last 5 Years
June 21, 2018
By Team Business For Home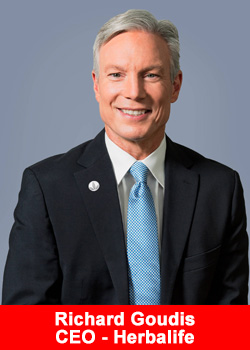 In the USA, Herbalife sales leader numbers have dropped by 50% over the last 5 years, to a level not seen since 2005 according to analyst Gary Milne in a long article.
The conclusions:
Herbalife has been under a lot of scrutiny in the USA since the FTC order went into effect on May 1, 2017.
While North American volume points declined significantly at first, the rate of decline slowed as the year progressed.
Herbalife is boosting the North America sales leader numbers with a newly introduced "re-qualification equalization factor".

The number of North American sales leaders is down 50% since 2015 to the level not seen since 2005.

Over 20,000 sales leaders were retained worldwide in 2018 by lowering the re-qualification standards vs. 2017.

Government regulation in India has forced significant changes in the Herbalife business model in that country.
There is no description of this "re-qualification equalization factor" in any public Herbalife document. What is being equalized is quite mysterious and left to the imagination of the reader. Is it economic disparity, geography, inflation, exchange rates, import tariffs, taxation, regulatory, or some other weighting factor?
I can find no other use of a "re-qualification equalization factor" in any other geography at any time in the past, it is literally unprecedented.
The fact that this mysterious adjustment just happened to be introduced at the first re-qualification period after the FTC order was imposed only further heightens suspicions.
Whatever it is, the footnote makes it clear that without the "re-qualification equalization factor", the global retention rate (excluding China and Venezuela) would have dropped another 1.1%, from 59.7% to 58.6%.
About Herbalife
Herbalife is a global nutrition company that has been changing people's lives with great products since 1980. Our nutrition, weight-management, energy and fitness and personal care products are available exclusively to and through dedicated independent Herbalife distributors in more than 90 countries.
We are committed to fighting the worldwide problems of poor nutrition and obesity by offering high-quality products, one-on-one coaching with an Herbalife distributor and a community that inspires customers to live a healthy, active life.
The company has over 8,000 employees worldwide, and its shares are traded on the New York Stock Exchange (NYSE: HLF) with net sales of $4.5 billion in 2015. To learn more, visit Herbalife.com or IAmHerbalife.com.