LifeVantage Expands in Asia, Launches In Taiwan
June 27, 2018
By Team Business For Home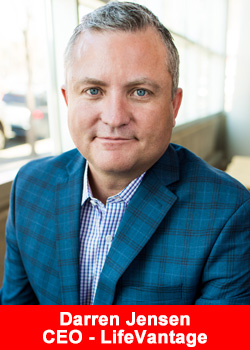 LifeVantage Corporation (Nasdaq:LFVN) has further expanded its footprint in Asia by opening for business in Taiwan.
We are excited about Taiwans potential and are committed to the long-term success of this market as part of our strategy to achieve lasting and significant growth in Greater China,'
said LifeVantage CEO Darren Jensen.
LifeVantage will initially offer its complete TrueScience® Beauty System '" the companys popular line of Nrf2-enhanced skin care products '" with its flagship Protandim Nrf2 Synergizer® anticipated to follow in the near future. The TrueScience® Beauty System consists of four products: TrueScience® Facial Cleanser, Perfecting Lotion, Eye Serum, and Anti-Aging Cream.
LifeVantage formally kicked off operations in Taiwan in conjunction with a successful market launch event on June 24 in Taipei.
It is both gratifying and rewarding to us as a company that the Taiwanese people will have access to our scientifically-validated products and entrepreneurial vehicle that are changing lives all over the world,'
said LifeVantage Chief Sales Officer Justin Rose.
The Taiwan launch also represents an increasingly concentrated effort on behalf of LifeVantage to make its products available in markets across the globe.
In addition to a formal presence in a dozen markets now in North America, Europe, Australia, and Asia, LifeVantage products were also recently made available to customers on a not-for-resale basis in 7 additional countries '" including New Zealand and Dominican Republic '" as part of a new Global Customer Program launched in April.
About LifeVantage Corporation
LifeVantage Corporation (Nasdaq: LFVN) is a pioneer in Nutrigenomics '" a new science dedicated to biohacking the human aging code.
The company is engaged in the identification, research, development and distribution of advanced nutraceutical dietary supplements and skin care products, including Protandim®, a line of scientifically-validated dietary supplements; TrueScience®, a line of Nrf2 infused skin care products; Petandimâ"¢ for Dogs, a companion pet supplement formulated to combat oxidative stress in dogs; Axio® Smart Energy Drink mixes; PhysIQâ"¢, a Smart Weight Management System; and Omega+, a 3-in-1 fish oil supplement.
LifeVantage was founded in 2003 and is headquartered in Salt Lake City, Utah. For more information, visit www.lifevantage.com.