Nicola Smith Jackson A Multi Million Top Earner in Network Marketing
June 18, 2018
By Team Business For Home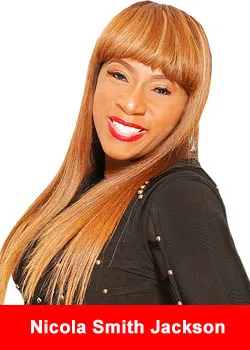 Nicola Smith Jackson is one of the highest ranked female top earners in the Business For Home ranks, unknown to many.
Born in Hartford, Connecticut, USA to immigrant parents, Nicola Smith Jackson always knew that she was meant for bigger things in life.
Within four years as an Agent with Financial Education Services, she has achieved the highest rank of Senior Executive Vice President.  She is also the first female to reach this prestigious level.
She says,
I might not have always known how to get there or make it happen, but I had the shear determination and drive to find the right path to spiritual, mental and financial wealth. I know if I can succeed in spite of the many challenges Ive faced, anyone can!'
A former hair stylist who is now one of the leading, award-winning and record breaking Network Marketing Experts in the world. Nicola is a wife and mom of 4 boys.
Through her many life challenges including burying 3 children and raising a disabled son, she is a true servant leader who is passionate about helping people to reach their full potential in network marketing through her teamwork and people first' principles.
Nicola discovered Financial Education Serviceswhen she was looking for a company to assist her with improving her credit score.  After she signed up for the services, she was surprised to see that not only had her credit score increased by 200 points and she was restored by to perfect credit in a short period of time.
I saw a service that was in demand and needed it for myself, so I jumped at the opportunity'
Learning that more than 43 million people have a credit score below 599, Nicola developed a passion for empowering others with information o restoring their credit and she became a Agent with the company.  Since that time, she has educated tens of thousands of individuals on the importance of financial literacy..
In just a few short years with the company, her team of more than 45,000 Agents has produced more than $80 million dollars in sales overall and she has helped to create over 40 six-figure earners!
Driven to Succeed
Nicola is not new to the Network Marketing Industry.  With nearly 10 years experience, she is a proven multi-million dollar earner and has lead teams as large as 300,000 producing more than $100 million dollars in sales over her career.
She is known as the Power Mentor and is amongst the top earners in the Network Marketing Industry.  In 2018, she was inducted in the Million Dollar Hall of Fame as one of the Most Powerful Women In Network Marketing by Eric and Marina Worre.
Creating success in Network Marketing is simple.  Focus on helping others be successful and youll be successful by default.'
Nicola's passion and love for helping single moms, dads, unemployed, professionals and others to succeed in Network Marketing has made her a sought-after speaker and coach.  She trains others by sharing her unique and results-driven techniquesusing Bible and time-tested principles that helps others generate a six-figure plus income in record time.
She currently sits on several boards and is a well-known speaker at conferences and other events in the industry.  Her popular online radio show, Power Start Your Day is listened to by thousands daily and she is the author of  Inside the Millionaires Vault' and soon to be released audiobook, Millionaire Secrets, The Code to Creating Your First Million'.  She is also the founder of The Millionaire Secrets Mastermind.
About Financial Education Services
A debt-free company, Financial Education Services was founded in 2009.  The company has been helping consumers achieve their highest financial potential for over 10 years. The company prides itself on its Accredited A+ Rating with the Better Business Bureau, which is  a representation of their personal commitment towards customer satisfaction.
The companys ever-expanding service line is consistently evolving to meet the demand towards a solution for financial issues consumers face today. Theyve covered the spectrum to create programs that can offer assistance to various pieces of the financial puzzle, with easy-to-use programs and the highest level of customer support.
For more information, please click here