Reliv International Names Ryan Montgomery New CEO
June 8, 2018
By Team Business For Home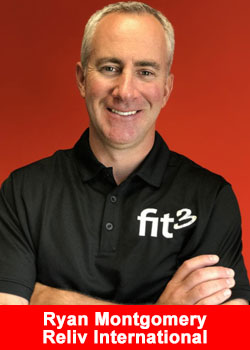 Reliv International Inc. (NASDAQ:RELV) on Wednesday named Ryan Montgomery as its new CEO. The move is effective immediately.
Based in Chesterfield, USA, Reliv is a maker of nutritional supplements that promotes health.
Ryan's father, Robert Montgomery, Relivs current CEO, will continue to serve as Chairman of Relivs board. In his new position, Ryan Montgomery will manage the overall operations of Reliv and set the future strategy for the company.
Robert Montgomery has been CEO for 30 years, and I look forward to leading Reliv International into the future by building onto the strong foundation he and my mother, Sandy Montgomery, built together,' Ryan Montgomery said in a statement.
We will work to not only remain competitive and relevant, but we aim to modernize Reliv to become leaders of the wellness and direct sales industries."
Ryan Montgomery joined Reliv as corporate counsel in 1999, establishing the compliance department and assisting international expansion and development. In 2003, he moved to the sales department and was responsible for developing sales strategy worldwide. He was named president of Reliv in 2012.
He is a 1995 graduate of Vanderbilt University with a bachelor's degree in Economics and he earned his law degree from St. Louis University in 1999.
Reliv is a developer, manufacturer and marketer of a proprietary line of nutritional supplements addressing basic nutrition, specific wellness needs, weight management and sports nutrition. It sells its products through an international network marketing system using independent distributors.
Reliv posted a loss of $696,912 on sales of $41.8 million for 2017. That compares to a loss of $625,055 on sales of $45.5 million for 2018.
About Reliv International, Inc. 
Reliv International, based in Chesterfield, MO, produces nutritional supplements that promote optimal nutrition. Reliv supplements address essential nutrition, fitness and weight loss and targeted solutions. 
Reliv is the exclusive provider of LunaRich® products, which optimize levels of lunasin, a soy peptide that works at the epigenetic level to promote optimal health. The company sells its products through an international network marketing system of independent distributors in 15 countries. Learn more about Reliv at reliv.com, or on Facebook, Twitter or Instagram