Total Life Changes Back to Basics Event Sells Out In Motown
June 22, 2018
By Nicole Dunkley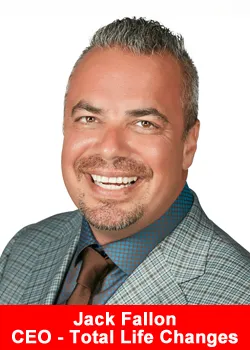 Events in the direct selling industry share many common goals and practices; product and software training, recognition of sales achievements, and reaching particular heights within a companys rank advancement. All of this is true for Total Life Changes (TLCs) Back to Basics (B2B) International Tour, but TLCs founder and CEO, Jack Fallon has implemented several more powerful segments to a traditional direct selling run of show.
Jacks vision has led to an ongoing weight loss contest from event-to-event where three winners are secretly selected. Each of the winners receive roundtrip airfare, hotel accommodations, a professional makeover, and additional prizes awarded live during each event.
Jack explains the impact of these contests:
These weight loss contests have become the focal point of our B2B tour. I just felt like we could generate so much anticipation with a secret reveal of the three winners from event-to-event. I have to give John Licari [C.O.O.] much of the credit for how this segment of the show is planned and implemented."
"Johns a natural. I mean, he is all heart and he is able to lead our three winners through a conversation that exemplifies their transformation. These stories are much, much more than weight loss stories; I mean, the impact of the weight loss on their confidence, their self-esteem, their energy levels, the things they are able to do now as a result of the weight loss and increased energy is amazing."
"I am just blown away, as each winners story is somehow just as impactful, or even more impactful than the last. I am just so thankful for all of the men and women that have submitted their testimonies. I truly enjoy being a part of this selection process. Its not easy, trust me, but it is very reassuring that were doing something that seems so easy, but yet is so impactful.
I just feel like everyone needs to hear these stories. They are so heartfelt and emotional, and so powerful for someone that has been involved in our company for five years or even five minutes. I am really looking forward to the next three winners that we will reveal in Raleigh, North Carolina (www.TLCRaleighContest.com).'
Total Life Changes hosted their latest B2B event in their own backyard. The weekend long festivities started on Friday, June 15, with a family style BBQ accommodated right at TLCs headquarters in Fair Haven, MI. Family fun games, a dunk tank, and even Mariachi, were all part of the celebration.
Friday was a day aimed for families. All corporate employees and IBOs were encouraged to bring their families to this BBQ. As a corporate staff we encourage bringing family to our events because thats what we are here at TLC, one big family' says Jack Fallon, Founder and CEO.
The emotion carried from Fridays BBQ and continued Saturday at the beautiful MGM Grand Casino Resort. The sold out crowd experienced a 30 minute business opportunity meeting presented by TLC Global Director, James Dentley III.
James Dentley explains to the attendees of the B2B event, the importance of always giving 110% effort:
The people who do the things that other people wont do always will be the most successful people. Always. Because they pay the price. They move for emotion and they operate strictly on their vision.'
The Detroit event consisted of product testimonies, training and recognition. Some highlights include awarding the top three enrollers, retailors, and awarding the IBO who brought the most guests to the event. Another TLC Youre Amazing' award was received by corporate employee, Natalie Paramo. The Youre Amazing' award recognizes an individual whom has made significant contributions to the success of the company and provides exceptional support to TLCs Independent Business Owners (IBOs).
Total Life Changes is taking a road trip to Raleigh, North Carolina for the next B2B event. All guests can register for free, so anyone within driving distance to the Marriott City Center Hotel is welcome to attend and experience the culture and family atmosphere of Total Life Changes staff and independent business owners.
Visit www.BacktoBasicsTour.com to purchase your tickets and find out more about the next B2B on July 20-21, 2018.
About Total Life Changes
Total Life Changes offers a diverse product portfolio of health, wellness and beauty products. President and Tea Executive Officer Jack Fallon created TLC over 16 years ago with a single product: NutraBurst®. Since that time, TLC has continued to develop the Iaso® brand of products to include a diverse and attractive product portfolio matched with a hybrid binary compensation plan that allows IBOs of TLC to be rewarded quickly for introducing new customers to our products and business opportunity. Find out why so many are saying, It really is different over here.'