Total Life Changes Top Retailers Retreat Makes Huge Splash In Cabo San Lucas
June 2, 2018
By Nicole Dunkley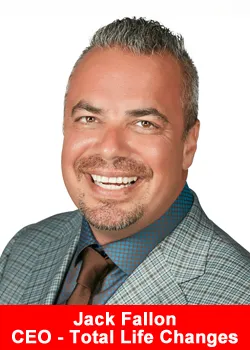 Success can be measured in so many different ways. For TLCs top retailers, this year it was the latest sales competition that rewarded qualified winners with four days and three nights in Cabo San Lucas.
The qualifying period for the Top Retailers Retreat contest began on January 27th and ended February 26, 2018. The surprise location was announced on March 3rd during TLCs Back to Basics International Event in Las Vegas.
Total Life Changes offered its Independent Business Owners (IBOs) that acquired (30) brand-new customers in thirty days with a 4-day, three night stay for two at the Pueblo Bonito all-inclusive resort in Cabo San Lucas, Mexico.
Fifty-six IBOs qualified and a total of thirty-five winners and their families from eleven countries were able to travel and attend this years retreat.
The Top Retailers Retreat winners and guests were officially welcomed Thursday evening at a mix-and-mingle overlooking the breathtaking views of deep turquoise oceanfront and rock formations at the southernmost point of Big Sur California. Music, appetizers and drinks filled the patio for several hours as guests greeted one another and TLCs corporate employees. Plenty of selfies and professional photography captured precious moments.
Total Life Changes founder and CEO summarizes the weekend retreat:
These retreats are always a great opportunity to speak with our IBOs in a more relaxing atmosphere. It allows for time to have more in-depth conversations, meet the spouses and family members of our IBOs and really get to feel the spirit of these incredible people. This particular group of IBOs are building a strong business for themselves and they keep it really simple.
Its the retail to recruit model; they are sharing product testimonies, sampling products, and following up with the many clients they acquire on a weekly basis. They are literally proving that you can earn a considerable amount of money, even on a part-time basis, just by sharing our products. And of course, I think they deserve to be recognized and rewarded for their efforts."
"We held a meeting Friday morning with all of the winners and the top three winners that had the most customers were shocked at the number of customers/clients they acquired in the thirty day period because they werent keeping track.
They simply remained consistent doing what they do on a daily basis and qualified by default. Nicole Ringer and her husband Josh acquired one hundred one brand new customers in thirty days. Louann and her husband James Kramer had seventy-nine, and Victor Sanchez had 71. Its stories like these that fuel my passion for this business model.'
Friday afternoon, following the meeting, guests were invited to TLCs famous Fun Friday' Facebook Live broadcast. All of the contest winners joined the live broadcast, which broke a yearly record to date, over 30,000 Facebook users were reached Friday afternoon. The live broadcast features a weekly corporate recap with event updates, recognition of new levels reached in the company, lists of the weeks top retailers and enrollers as well as the top ten countries sales for the week. Its packed with promos, giveaways and a deal of the day.
That evening guests were treated to an authentic Mexican dinner. The highlight of the evening was captured by a live mariachi band. They celebrated Jack Fallons birthday and continued to inspire guests; Chief Operating officer, John Licari and VP of Latin America Sales, Bolivar Enriquez were so inspired they performed with the band.
I want to thank and recognize TLCs Event Coordinator, Martha Avila for planning such an amazing weekend for all of the guests. Martha has been in charge of all of our events and retreats for over three years and this one was truly the best. I received such great feedback from everyone; they loved the location, the food, the accommodations and the available excursions.
She has always paid attention to details and this weekend was testament to her work ethic. The Top Retailers Retreat was a tremendous success. So many of the guests took advantage of the many excursions available in Cabo San Lucas; some rented ATVs, Jet Skis, parasails, while others relaxed and waited for a sunset dinner cruise,' says Chief Communication Officer, Scott Bania.
About Total Life Changes
Total Life Changes offers a diverse product portfolio of health, wellness and beauty products. President and Tea Executive Officer Jack Fallon created TLC over 16 years ago with a single product: NutraBurst®. Since that time, TLC has continued to develop the Iaso® brand of products to include a diverse and attractive product portfolio matched with a hybrid binary compensation plan that allows IBOs of TLC to be rewarded quickly for introducing new customers to our products and business opportunity. Find out why so many are saying, It really is different over here.'