WorldVentures BootCamp In South Africa Attracts 1,200 Attendees
June 22, 2018
By Team Business For Home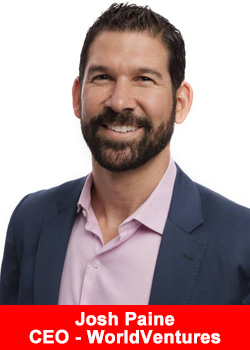 WorldVentures, the leading direct seller of global travel and leisure club memberships, drew exceptional attendance at BootCamp, a regional training event in Johannesburg, South Africa, from June 8 to 10, 2018.
BootCamp brings WorldVentures Independent Representatives together from around Africa to build leadership skills, develop a mindset guided by purpose, and gain the personal courage and determination they need to fight for their dreams.
In addition to providing incomparable training for Reps, WorldVentures events positively impact local economies through increased hotel, dining and activity spending.
The 1,200-plus BootCamp attendees stayed an average of three nights in Johannesburg for the event. According to Budget Your Trip, visitors to Johannesburg spend an average of 1,346 rand (US$103) per person, per day, making the overall financial contribution of attendees to the local economy around 1.6 million rand (around US$120,000) during the event weekend.
Highlights of the event include:
Chief Executive Officer Josh Paine delivered an insightful address, providing an enthusiastic update on the trajectory of the company, from the products to the platform. Our full product spectrum allows customers to engage with you in many different ways, anytime they want,' Josh said. That makes it even more important for you to have a platform that allows you to run your business with excellence. This is being rolled out across the globe, with personally tailored experiences to help you measure your business and track your success.'
George Adamides, Senior Director for Roviaâ"¢ in Europe, the Middle East and Africa, touted a significant increase in the number of DreamTrips offered in Africa, including new experiences now available in Uganda and Morocco. He also announced the regional launch of Anytime Escapes, a more flexible travel option that allows customers to enjoy amazing locations at incredible prices on the dates that best fit their schedules.
WorldVentures Foundationâ"¢ Executive Director Gwyneth Lloyd named National Marketing Director Anand Patel the Global Volunteer of the Year for his tremendous service and involvement around the world. Patel personally sponsored two bottle schools in Guatemala and is a true embodiment of the foundations Heart to Serve.
WorldVentures Foundation, the companys charity of choice, helps local underserved children during major training events by hosting a Volunteer Day.
The foundations group of 100 volunteers kicked off BootCamp with a day of service at Botshabelo's on-site Urban Kids Preschool, which provides access to quality education for the children of impoverished and emerging families. Volunteers helped make a difference by giving the preschool a fresh coat of paint, fixing the roofs and playground, repainting parts of the jungle gym, and setting up and playing games with the kids outside.
About WorldVentures
WorldVentures is a privately held company based in Plano, Texas, that sells travel and lifestyle community memberships providing a diverse set of products and experiences. The companys goal is to help Independent Representatives, DreamTripsâ"¢ Members and employees achieve more fun, freedom and fulfillment in their lives. WorldVentures uses the direct sales model to go to market with active Representatives and members worldwide. For more information, visit worldventures.com.
About WorldVentures Foundation
WorldVentures Foundation is a U.S. 501(c)3 nonprofit organization with a mission to create positive change in the lives of children all over the world. The foundation supports sustainable programs that promote childrens health, happiness, safety and development. Represented by the Heart to Serve logo and tagline, the foundations mission is accomplished through four main ways: VolunTours, Volunteer Days, Dream Courtsâ"¢ and fundraising. Learn more at worldventuresfoundation.org.