Adam Paul Green Achieves Pro 4 Rank With LifeVantage
July 31, 2018
By Team Business For Home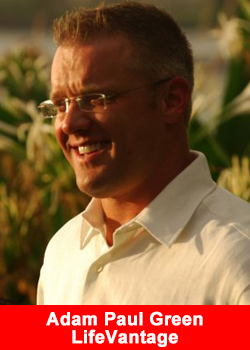 Adam Paul Green,  has achieved the Pro 4 rank with LifeVantage in his second month with the company (Nasdaq: LFVN).
Having spent 16 years in the Network Marketing Industry working as a Manufacturer for other companies, and as a Product Developer (Skin Care, Dental Care, Body Care, Hair Care), Green deeply understands the impact of the MLM industry and the true power of the Direct Sales business-model from every possible angle; which is very unique to him.
Adam stated:
After so many people in MLM disappointed me over my 12 year career, I thought I was done with Network Marketing for good. Good riddance!
I really wanted to be done, actually.
However, LifeVantage changed that perspective for me by showing me that there are great people in the industry, highly experienced corporate leaders, who genuinely do care about doing the right things for both business-building distributors and product consumers. 
I have the upmost respect for LifeVantage Executives:  Darren Jensen, Justin Rose, Dave Flaming, Kevin McMurray, Courtland Pearson, Eric Marchant, Carsten Marx, and Kelly Rich.
Thank you for restoring my faith in the industry.'
Starting over '˜from scratch with a brand new company is always a daunting challenge.  Ones faith is tested.  Avoiding old pit-falls is critical.  Focusing on what works now is pivotal.  Bad habits must be purged.  Required effort is high.
Being out-of-MLM-shape is a real thing.  There will be '˜cobwebs and some '˜soreness should be expected while you get back connected and re-engaged.  The true possibilities may be questioned and sometimes questioned often.  Stress spikes.  However, the core principles remain constant:  (1) Continued Belief, (2) Being True to Yourself and (3) Daily Action will always yield the same result: Success!
I am a product of perseverance. I used to fail and fail and fail and I did not understand why. After every one of my business failures, I make:  (a) Critical Refinements (i.e. WHAT I am doing) and timely adjustments (i.e. HOW I do things).  Its the key.  It is my hope that I will be able to help you as well.'

Green chose to work alongside Top 50 Network Marketing Builder and Coach, Ryan Fry.  Ry Fry and Green have been close friends for over a decade and share the same vision.  The timing was perfect for Green and Fry to join forces.  The Ry Fry Group is quickly becoming the latest shining star amongst the many brilliant stars in LifeVantage.
One of Fry and Greens biggest passions is technology and utilizing social media technology to impact the world of Direct Sales.  To that end, Fry and Green invested heavily and created several, highly-sophisticated, custom websites, across 25 countries, in order to Educate, Recruit, Support, Teach and Coach people so that they can quickly find simple answers, stay motivated, overcome obstacles, discover new solutions and continue to be committed.
About LifeVantage Corporation:
LifeVantage Corporation (Nasdaq: LFVN) is a pioneer in Nutrigenomics '" a new science dedicated to biohacking the human aging code.
The company is engaged in the identification, research, development and distribution of advanced nutraceutical dietary supplements and skin care products, including Protandim®, a line of scientifically-validated dietary supplements;
TrueScience®, a line of Nrf2 infused skin care products; Petandimâ"¢ for Dogs, a companion pet supplement formulated to combat oxidative stress in dogs; Axio® Smart Energy Drink mixes; PhysIQâ"¢, a Smart Weight Management System; and Omega+, a 3-in-1 fish oil supplement.
LifeVantage was founded in 2003 and is headquartered in Salt Lake City, Utah. For more information, visit www.lifevantage.com