Ahmed Emad Reaches Vice President Rank With Dubli Network
July 7, 2018
By Team Business For Home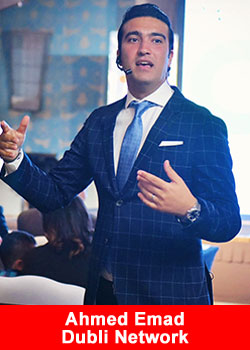 Ahmed Emad from Egypt has reached the prestigious Vice President level with e-commerce network marketing company, Dubli Network.
As a Business Associate, Mr. Emad has made connections and has been instrumental in expanding the reach of Dubli Network in the Middle East, a large and successful region for network marketing.
In a previous interview with Business for Home, Mr. Emad expressed his thoughts on what differentiates Dubli Network by stating,
Unlike others in this industry, Dubli Network offers Business Associates a product with universal appeal '" helping shoppers from any country or background save money on everyday purchases. Dubli Network is a rewarding business opportunity and I believe that all true networkers can and will see the same.'
Mr. Emad appreciates the cohesive relationship between Dubli Network and Dubli.com and has been successful in leveraging this correlation.
As a member of Dubli Network, Mr. Emad has utilized the online shopping site to grow his reach outside of Egypt. When asked about what makes Dubli.com relevant to todays consumer, Mr. Emad stated that
with the Dubli.com platform, we are perfectly centered within the biggest industry at the best time, with the greatest service ever brought to people shopping online.

People spend more time on their phones than ever before and in real time, every product or service is now online.'
Along with technological advancements there comes a shift in the marketplace for which Mr. Emad has taken advantage. He sees Dubli Network as an asset in the growing direct selling industry and explains
that teams are getting bigger faster which allows new markets to open quicker. Its increasing the speed of how this industry grows and, in the future, the direct selling industry will be more online than offline.'
As he prepares for the future, Mr. Emad has one objective with Dubli Network.
Many countries are still not engaged with Dubli Network which gives leaders a beneficial opportunity.

My goal is straight-forward: I want to help new leaders from many new countries take advantage of this amazing opportunity and achieve the financial freedom offered through Dubli Network.'
Dubli.com is a global leader in online Cash Back shopping to customers in more than 120 countries. Dubli.com members save money by earning Cash Back on every purchase when shopping online from their favorite stores, making it a rewarding experience for both shoppers and the merchants with whom they shop.
Members earn up to 30% Cash Back on every purchase and maximize their savings with coupons, deals and free shipping offers.
VIP Rewards members earn an unlimited annual 2% Cash Back on all their purchases while saving with exclusive deals available only to them. The VIP Rewards membership makes travel and booking last-minute hotels an exciting money-saving experience by helping members get up to 60% off their stay with 6% Cash Back earnings worldwide.
Along with great shopping opportunities, there are coupons and other features that contribute to maximizing savings. Members have exclusive access to the Global VIP Rewards Cash Back card that provides them with 4% Cash Back on every purchase at more than 24 million locations worldwide, online or in-store wherever the Global VIP Rewards Card is accepted.
Dubli.coms mission is change the way people shop and earn Cash Back online,  giving them more for their spending.
Since its founding by Michael Hansen in 2003, Dubli Network has offered entrepreneurs the opportunity to create their own distributor organization by joining the direct sales company, Dubli Network (dublinetwork.com).
The worldwide sales network of independent Business Associates supports customer acquisition, while at the same time providing a low-risk, flexible business opportunity.