AIM Global Port Harcourt Nigeria Celebrates 3rd Anniversary With 3,000 Distributors
July 16, 2018
By Team Business For Home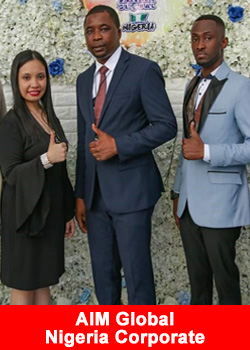 Nigeria is considered the most populous country in the expansive African continent with a population of 200 million people.  Home to 36 states, Alliance In Motion Global (AIM Global) was able to penetrate Nigerias direct-selling industry and establish successful branches in its 8 major cities namely Lagos, Abuja, Ibadan, Onitsha, Kano, Warri, Uyo and Port Harcourt.
Port Harcourt, or as fondly referred to as '˜Potakot, is a major industrial center and the biggest city in the Rivers state and is considered to be one of the wealthiest states in Nigeria in terms of gross domestic product and foreign exchange revenue.
With an estimated 1.8 million inhabitants, the Port Harcourt branch of AIM Global is one of the flourishing branches of the company in the country.
Last July 9, 2018, AIM Global Port Harcourt marked its 3rd anniversary with 3,000 distributors, top leaders and guests at the LA Kings Hotel in Port Harcourt. The event was led by AIM Global Port Harcourt Branch Officer-In-Charge, Mr. Samuel Duodu, AIM Global Nigeria Country Manager, Mr. Ahmed Kassim Basha and the whole AIM Global Port Harcourt team.
The auspicious occasion was also attended by Nigerian top leaders and special guests including Mr. Emmanuel Akpakwu, Mr. Innocent Adah, Ms. Grace Umezurike, Ms. Juliet Clinton, Mr. Ofonmbuk Ubokudom, Mr. Joseph Nnamani, Mr. Benedith Sunday, Ms. Chidinma Enyioha, Medical and Product Trainer Dr. Butch Villena and International Business Trainer and Life Coach John Gay.
Top leaders Mr. Benedith Sunday and Ms. Chidinma Enyioha shared gripping testimonies on health and wealth, respectively.
I have never travelled out before. I have never left the country before. Through AIM Global I rode a plane for the first time,'
Ms. Chidinma Enyioha shared.
She revealed that even if she just joined AIM Global this January 2018, she still qualified for the Philippine Trip incentive. She was pleasantly surprised to learn her hard work and perseverance paid off as she reached a huge milestone in the company. Ms. Chidinma Enyioha believes that it was just the beginning of all the good things that she will experience through AIM Global.
New members of Millionaires Circle, Global Ambassadors, Speakers Bureau, Silver Executives and Gold Executives were also conferred at the event while the awards for the Top 5 leaders based on Pairings, the Top 3 leaders based on Reorders, Top 5 leaders based on Income, the Top 5 leaders based on Total Sales, Top 5 RC contributors, Top 20 RCs and the Rising Star were given to the awardees, as well.
Powerful messages of hope and faith were shared to the crowd of 3,000 distributors by top leaders and international trainers such as Ms. Juliet Clinton, Mr. Joseph Nnmani, Mr. Ofonmbuk Ubokudom, Ms. Grace Umezurike, Mr. Innocent Adah, and International Business Trainer and Life Coach John Gay, their inspiring and moving words evidently made an impact to all distributors as they loudly cheered and applauded during and after their speeches.
International Business Trainer and Life Coach John Gay stressed that Lifes negative circumstances are just temporary. If you are going through tough times today, remember three things. One, that is temporary and that will change.
Two, you will learn something as long as you have a good attitude. Lessons will be learned as you remain and maintain a good attitude. Three, believe that God will turn that situation around to work for you.' His statements enlightened and brought joy to the attendees.
Medical and Product Trainer Dr. Butch Villena extensively presented AIM Globals newest weight-loss manager product, BURN Slim. Dr. Villena further disclosed the health benefits of taking BURN Slim and the importance of having a healthy lifestyle. Dr. Butch Villena emphasized that with regular exercise, a balanced diet and the use of BURN Slim, an immediate and long-term weight loss goal can be achieved.
BURN Slim is manufactured exclusively by Weider Global Nutrition, a pioneer US brand in the weight-loss management industry with 80 years of excellence.
ABOUT AIM GLOBAL
Founded by Network Marketing icons Raymond John' Asperin, Engr. Francis Miguel and Dr. Eduardo Cabantog in 2006, Alliance In Motion Global (AIM GLOBAL) is the leading direct sales network marketing company in the Philippines. The company markets and distributes top of the line Nutraceutical supplements, weight loss wellness products, personal care and skincare products, functional beverages and premium lifestyle products.
The company is a proud member of MLMIA (Multi-Level Marketing International Association) in USA, founding member of Direct Selling Association in Pakistan (DSAP) and Direct Selling Education Institute (DSEI) of Dubai, UAE.
AIM Global has 130 business center offices in the Philippines and has global offices in 19 countries namely Hong Kong, Singapore, Taiwan, Brunei, Papua New Guinea, UAE, Kuwait, Pakistan, Hawaii, Nigeria, Ghana, Kenya, Uganda, Togo, Ivory Coast, Cameroon, Tanzania and Rwanda.
AIM Global is categorized as +AAA' business opportunity, Top 100 Solid MLM Direct Sales Company 2018, Top 25 Momentum Direct Selling Companies 2018, Founder/Director/CEO and Visionary President Dr. Eduardo Cabantog as one of the Ambassadors of Network Marketing – Hall of Fame 2018 by Business For Home.