AIM Global Onitsha Branch In Nigeria Celebrates 4th Anniversary With 2,000 Distributors
July 30, 2018
By Team Business For Home
With more than 200 million inhabitants, Nigeria is the most populated country in the African region and the 8th most populous in the world.
Nigeria is also one of two countries from Africa among 11 '˜Global Growth Generators countries, according to a Citigroup report published in February 2011. This report also predicts that the West African country will have the highest average GDP growth in the world between 2010 and 2050.
Alliance In Motion Global launched 8 company owned operational branches in major cities namely Lagos, Abuja, Ibadan, Kano, Warri, Uyo, Port Harcourt and Onitsha, making the company the most influential MLM direct-selling company in the last six years since AIM Global established its first branch in Lagos, Nigeria.
Known as '˜The Light of the Nation, Onitsha was a historic port city from Nigerias pre-colonial times and has since developed as by far the largest urban area in the state. Onitsha is a strategic gateway and economic hub for trade, commerce, and education. It is a notable move for AIM Global to open a branch in Onitsha in 2014 and watch it grow and continue to succeed four years after.
If you can believe in yourself, you can be the next success story,'
Mr. Nnamdi Anyachukwu, a Nigerian Top leader and an AIM Global Hall of Fame member said. Together with his wife, they shared stories of encouragement & success to the hopeful distributors at the 4th year celebration of AIM Globals Onitsha branch in Nigeria last July 21, 2018.
 AIM Global Onitsha marked its 4th anniversary with a Sales and Recognition Rally event with 2,000 distributors, Nigerian top leaders and guests at the All Saints Cathedral in Onitsha. The festive event was spearheaded by AIM Global Onitsha Branch Officer-In-Charge, Mr. Bernard Addo, AIM Global Nigeria Country Managers, Ms. Riza Soliguen and Mr. Ahmed Kassim Basha, AIM Global International Trainers, Mr. Ferdinand Webb and Ms. Ruzel Gillera and the whole AIM Global Onitsha team.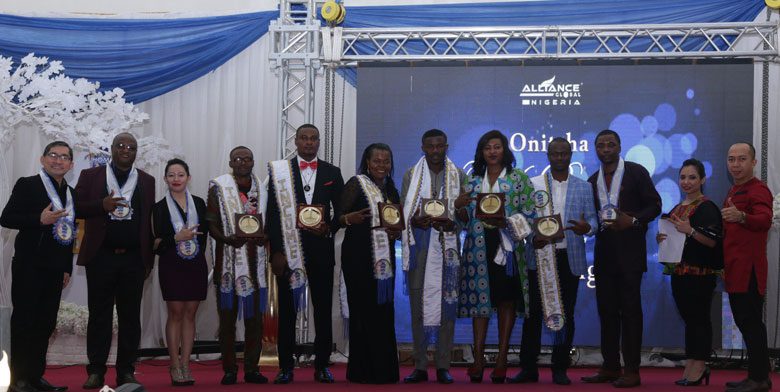 Present at the successful affair were Nigerian top leaders and special guests including Mr. Emmanuel Akpakwu, Mr. Innocent Adah, Ms. Grace Umezurike, Mr. Paul Chukwu, Mr. Joseph Nnamani, Ms. Nneka Okoye, Mr. Chikat Lekshak, Ms. Chiwendu Anyachukwu, Mr. Chino Chukwudozie and Mr. Sunday Orinya and AIM Global Medical and Product Trainer Dr. Butch Villena.
The attendees were riveted with the moving testimonies on health and wealth of Silver Executives Ms. Nneka Okoye and Mr. Sunday Orinya, respectively. Mr. Sunday Orinya shared his anecdotes about his drive on working non-stop until reaching a new milestone in AIM Global by qualifying for the Philippine Trip Incentive last May 2018 to witness the companys four-day 12th year Anniversary convention.
The main highlights of the event are the recognition of the new members of the Millionaires Circle, Global Ambassadors, Speakers Bureau, Silver Executives and Gold Executives and the awarding of the Top 5 leaders based on Pairings, the Top 3 leaders based on Reorders, Top 5 leaders based on Income, the Top 5 leaders based on Total Sales, Top 5 RC contributors, Top 20 RCs and the Top Rising Star.
An extensive Product Presentation was made by AIM Globals Medical and Product Trainer Dr. Butch Villena for the companys newest weight-loss management product, BURN Slim. BURN Slim is manufactured exclusively by Weider Global Nutrition, a pioneer US brand in the weight-loss management industry with 80 years of excellence.
Dr. Villena revealed the health benefits of taking BURN Slim as well the importance of being fit and healthy. Dr. Villena added that having a conscious effort to live a healthy lifestyle by regularly exercising and eating well-balanced meals and using BURN Slim can help achieve an immediate and long-term weight loss goal.'
Nigerian top leaders and Global Ambassadors Mr. Paul Chukwu, Mr. Joseph Nnmani, Mr. Chikat Lekshak, Mr Ofonmbuk Ubokudom, Ms. Nkpouto Ubokudom, Ms. Grace Umezurike, Ms. Chiwendu Anyachukwu and Mr. Chino Chukwudozie shared their powerful stories of faith, sales-strategies and resilience to the crowd, giving them new hope, new skills and courage to be better people and be the best at what they do now.
Sometimes in my quiet moments, I ask myself, '˜Without AIM Global, what would have become of me, my family and the people of whom AIM Global has touched lives one after another positively? On this note, I begin to thank God, to glorify God for bringing this noble company, Alliance In Motion Global, to Nigeria,' said by the Nigerian Top 1 Leader Ms. Grace Umezurike.
Ms. Umezurike then encouraged everyone to ask themselves the same question in their own quiet moments because by asking the same question to herself, it made her realize that what she has now should not be taken for granted and it made her more grateful and driven to inspire more people daily.
The night ended with a grand toast and a cake-cutting ceremony to celebrate AIM Global Onitshas four prosperous years in the business and to wish AIM Globals irrefutable and continuous success in all of its branches all over the world.
ABOUT AIM GLOBAL
Founded by Network Marketing icons Raymond John' Asperin, Engr. Francis Miguel and Dr. Eduardo Cabantog in 2006, Alliance In Motion Global (AIM GLOBAL) is the leading direct sales network marketing company in the Philippines. The company markets and distributes top of the line Nutraceutical supplements, weight loss wellness products, personal care and skincare products, functional beverages and premium lifestyle products.
The company is a proud member of MLMIA (Multi-Level Marketing International Association) in USA, founding member of Direct Selling Association in Pakistan (DSAP) and Direct Selling Education Institute (DSEI) of Dubai, UAE.
AIM Global has 130 business center offices in the Philippines and has global offices in 19 countries namely Hong Kong, Singapore, Taiwan, Brunei, Papua New Guinea, UAE, Kuwait, Pakistan, Hawaii, Nigeria, Ghana, Kenya, Uganda, Togo, Ivory Coast, Cameroon, Tanzania and Rwanda.
AIM Global is categorized as +AAA' business opportunity, Top 100 Solid MLM Direct Sales Company 2018, Top 20 Momentum Direct Selling Companies 2018, Founder/Director/CEO and Visionary President Dr. Eduardo Cabantog as one of the Ambassadors of Network Marketing '" Hall of Fame 2018 by Business For Home and the top awardee in the Direct Sales category of Asia Pacific Entrepreneurship Awards 2017.