Jeunesse Founder Wendy Lewis Named Champion Of The Year
July 12, 2018
By Team Business For Home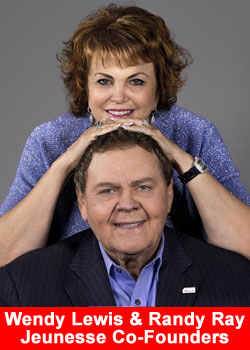 Wendy Lewis, Founder and COO of Jeunesse Global, received a Gold Award for Champion of the Year in the 2018 World Women Award in recognition of her efforts to provide a brighter future for children around the world through the companys nonprofit foundation Jeunesse Kids.
Lewis and her husband, CEO Randy Ray, founded Jeunesse Kids in 2012 to continue the companys mission to make a positive impact through philanthropic projects that serve children across the globe.
In 2017, Jeunesse Kids raised $1.58 million to fund initiatives around the world.
Lewis was also honored with Silver awards for Female Entrepreneur of the Year and Female Executive of the Year (for companies with 500-2,400 employees), as well Woman of the Year '" Lifetime Achievement.
Jeunesse Global was honored with a Gold Award for Company Growth of the Year in recognition of $1.3 billion in annual worldwide sales, international market expansion and global product line expansions.
This is the third consecutive year Lewis and the company have been honored in the competition.
It is quite an honor to be recognized in a competition that celebrates the success of women in business and the companies they command,'
said Lewis.
I am proud to stand among women from such diverse industries, geographic locations and companies.'
The coveted Women World Awards is an annual industry and peer recognition program honoring women in business and organizations of all types and sizes in North America, Europe, the Middle East, Africa, Asia Pacific and Latin America.
The program encompasses the worlds best in leadership, innovation, organizational performance, new products and services, and milestones from every major industry in the world.
Winners will be honored Monday, July 30, at the annual SVUS Red Carpet Awards Ceremony Dinner in San Francisco.
About Jeunesse
Jeunesse is a global direct selling company with a mission to positively impact the world by helping people look and feel young, while empowering them to unleash their potential.
The companys exclusive skin care and nutritional products form a comprehensive Youth Enhancement System. With multilingual customer service, back office support and a global enrollment system, Jeunesse utilizes a cutting-edge platform to share innovative products, training and support through 32 fully operational offices to markets in over 140 countries.
Learn more at jeunesseglobal.com.