Macaria Mejía Achieves Diamond Rank With Vida Divina
July 27, 2018
By Team Business For Home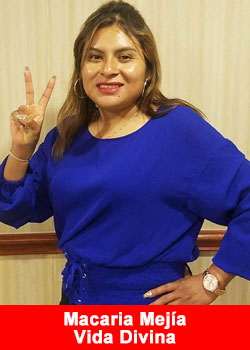 Vida Divina, a global direct marketer of nutritional and healthy lifestyle products, announced today that Mexican entrepreneur Macaría Mejía from California has obtained the rank of Diamond.
 Her personal story makes her achievements even more remarkable. Once a humble girl living in Oaxaca, Mexico, Macaria Mejía spent her last years of high school thinking about how to make her dreams of prosperity come true. So, as a very young woman, in 2009, she made the hard decision of migrating to the United States.
 Macaria recalls those days with a bittersweet feeling. Her arrival to a new country was a mix of courage and inevitable fear.
 I just made it to the border, then hiked over the mountains and now Im here',
she says. But it was not as easy as it sounds. Leaving her land behind was risky and emotionally painful.
She had a friend who walked along with her in that journey to America, and they overcame all obstacles together. But then they parted ways: that friend went to Washington and Macaria Mejía stayed in Salinas, California'"the city where good fortune would smile to her many years later…
I had a brother here in the US, who helped me get a job, but all I found was in agriculture,' she recalls.
I started working in the fields, planting lettuce and later cleaning strawberries.'
However, her earnings were still too tight, so she started looking for something better. Besides, she had a solid education. All my life I pictured myself working on a computer, creating wonderful things,' Macaria says. 
A new mindset
While working in the fields for $230 a week, Macaria heard about Vida Divina®, which was just taking shape. I heard about it but I wasnt sure about joining it. Actually, I was a very shy person. I remember I couldnt even dare to post a picture of myself on Facebook', she says. But then happened what Macaria calls a change of mindset.'
Macaria Mejía started distributing Vida Divina® products at certain locations and telling friends and acquaintances to meet her if they wanted to get deeper into what she had to offer. People started to pay attention and, suddenly, she found herself with a regular clientele who wanted to know more about Vida Divina®. But, more importantly, they started believe in her.
Seeing that working in network marketing could be that long awaited opportunity to get what I deserve in life,' Macaria started to make videos via Facebook Live.
I couldnt even post a picture of myself on a social network,'
she recounts, but I changed my mindset and started doing tutorials about Vida Divinas products, and also giving tips for people to become good at this business'.
Macaria Mejía received greetings from many viewers who thanked for the advices. She also got negative comments, but she just decided not to pay attention to them. You know, thats how social networks work, and then I realised I was finally working with a computer, like I always wanted to', says this 28-year-old woman who worked her way to happiness. And financial stability, too, of course. She cant recall how many people exactly are in her network, but surely there are a lot of them! Her last check was the amazing 6 figures.
Thats what you can earn if you work the right way, and Im sure Ill receive even more',
she says. 
Now, Macaria Mejía thinks about the day she left Oaxaca, but no more with a heavy heart. She travels every here for work and meets new and amazing people all the time. And she helps others. For her, this is the kind of life she always wanted. But she is humble. From 1 to 10, I would give myself an 8 in leadership,' she says with a smile.
I still have plenty of things to learn, but for me Vida Divina® is like an ark: you better get on board. Otherwise, somebody else will do it and you might be left out of an amazing opportunity.'
About Vida Divina LLC
Vida Divina®had one of the most Successful Launches in history, In less than a few years, Vida Divina has grown exponentially. The company has reached more than 32 countries and built up an empire of office buildings all around the world and its own manufacturing facilities.
Vida Divina®Recently has been honored as:
One of the 100 Solid Top MLM Companies For 2018.
Rated AAA+ Network Marketing Opportunity buy Business For Home
Founded by Network Marketing Legend Armand Puyolt, has been in the Top Network Marketing Earners ranks for over 25 years as a distributor, and has been selected by Business for Homeas one of the ambassadors of the network marketing industry.
Vida Divina offers a full line of health products, cosmetics, energy drinks, weight loss enhancers, chemical-free baby foods, among other products designed to enhance the human bodys abilities to cope with the stress of modern world and lack of nutrients.
As a debt-free company, Vida Divina was created like an Ark, to carry as many people to success as possible, and giving them an opportunity to change their future forever. For more information please visit www.vidadivina.com.