Olympic Gold Medalist Amy Van Dyken Joins Kannaway
July 16, 2018
By Team Business For Home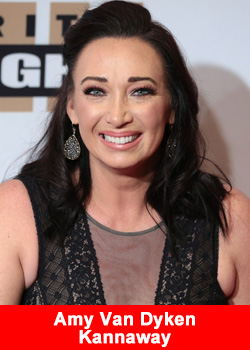 Medical Marijuana, Inc. (OTC:MJNA), the first-ever publicly traded cannabis company in the United States, announced today that six-time Olympic gold medalist Amy Van Dyken has become a spokesperson for its subsidiary Kannaway® to help spread awareness on the benefits of cannabidiol (CBD) for athletes, former athletes and those who are just looking to lead a healthy, active lifestyle.
"We're thrilled to work with Mrs. Van Dyken and to continue the conversation about the benefits that former athletes like her are experiencing from using CBD,"
said Kannaway® CEO Blake Schroeder.
"Her personal story is a perfect example of how CBD not only can improve a person's life, but also enable them to continue living the active lifestyles they have grown accustomed to."
Kannaway® is the first hemp lifestyle network to legally offer hemp-based botanical CBD wellness products.
Its Kannaway® Sports division is connecting athletes with the education and products they need to help them live happier, more fulfilling lives. Kannaway® announced June of 2018 as its largest-ever (unaudited) sales revenue month in its history and that the Company has grown more than 50 times in revenue under new management since 2016.
"Kannaway's CBD products have drastically improved my quality of life. I was skeptical at first, but Kannaway Pure CBD is making my life enjoyable again,"
said Van Dyken.
"I take two tablespoons of the Kannaway Pure CBD in my coffee every morning and I feel like a new person. I hope my story can help spread awareness of the benefits of CBD so that people like me can feel more comfortable giving it a try."
"It is an honor to work with individuals like Amy Van Dyken who share the same goal of increasing education and awareness of CBD as a safe dietary supplement,"
said Medical Marijuana, Inc. CEO Dr. Stuart Titus.
"We hope this partnership will help clear up the many misconceptions people have about cannabis and CBD."
About Kannaway
Kannaway is a network sales and marketing company specializing in the sales and marketing of hemp-based botanical products.
Kannaway® currently hosts weekly online sales meetings and conferences across the United States, offering unique insight and opportunity to sales professionals who are desirous of becoming successful leaders in the sale and marketing of hemp-based botanical products.