OMNIA Opens Headquarter In Cyprus
July 27, 2018
By Team Business For Home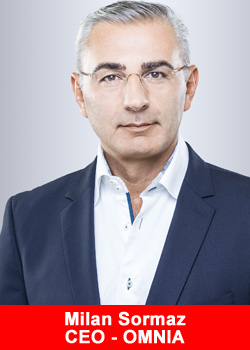 OMNIA, a leader in blockchain technology has recently celebrated the grand opening of their new corporate headquarters in the beautiful island country of Cyprus.
Located in the countries Capital city, Nicosia. This spacious facility is designed with one thing in mind; productivity. However, its as beautiful as it is functional.
OMNIA is in a space where decentralization is expected'
says Milan Sormaz, OMNIA CEO.
However, while we have consultants, contractors and some our our team offsite, I am a big believer in having our key departments under the same roof for ease of communication and maximum productivity.  

What we have here give us the best of both worlds.'
OMNIA has had a breakout year, having not yet celebrated their 1st year anniversary they have exceeded their first-years expectations since their beginning in August 2017 and the successful opening of one of the single largest mining farms in the world, in Yerevan, Armenia.
At the event were the corporate team including CEO Milan Sormaz, plus Ambassadors Tino Ludwig, Dilawar Singh and Carsten Lange and also the co-founder Robert Velghe.
During the ceremony it was announced that OMNIA is launching a second major product, a semi-autonomous trading algorithm that capitalizes on the volatility of the cryptocurrency market. This makes a unique addition to their already one of a kind lifetime mining contracts.
Its a dream come true' says Milan Sormaz, CEO.
In the MLM industry since it began the goal for most people who join is to invest some time and resources and receive something in return each month.
We all know that is not guaranteed'¦ until now. Thats exactly what were offering, and its one reason for our success.'
The rate of our global expansion is truly incredible. Bringing the major markets online with government compliance and a fundamental infrastructure thats second to none'¦. There are no words. We will meet our goal of being a major leader in the cryptocurrency / blockchain markets worldwide, sooner than later.'
About OMNIA
Headquartered in Cyprus, OMNIA is a leader in the blockchain industry and offers a unique strategy for anyone to effortlessly participate. Our products and services are strategically sound enough to attract those that are blockchain savvy already and simple enough for those who are new to the world of cryptocurrency to begin their journey.
Where allowed, OMNIA offers lifetime mining services for Bitcoin, Ethereum and other alternative cryptocurrencies in our mining catalog as well as a variety of other blockchain-related products and services.
OMNIA is comprised of professionals who possess years of experience in this space since the inception of Bitcoin.
We have a scalable infrastructure that is secure and fully optimizable, capable of being a major part of the future of blockchain.
For more information please visit www.omniatek.com