Rafael Caban Achieves Diamond Rank With Vida Divina
July 21, 2018
By Team Business For Home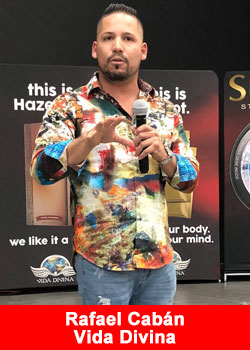 Vida Divina, a global direct marketer of nutritional and healthy lifestyle products, announced today that Rafael Cabán from Puerto Rico has obtained the rank of Diamond.
 Within 15 months in the Vida Divina network, Puerto Rican entrepreneur Rafael Cabán is proud to have achieved Diamond rank with the company.
Now based in Orlando, FL, the 29-year-old boasts a business with 6 figures in monthly revenues, and which encompasses an 8,000 people network of leaders in about 16 countries, including México, Dominican Republic, Colombia, Puerto Rico, Panama, Paraguay, Spain, and many cities in the United States.
Cabán has been an entrepreneur all his life, since starting to work at just 13, in his fathers clothing store, and so the transition to network marketing felt nothing but natural to him.
Since helping found Vida Divina from his native Puerto Rico, Rafael Cabán has set up a successful business and developed a training program for his marketer leaders that has become his true professional pride and joy.
His YouTube channel has now over 15,000 subscribers who follow his weekly advice to becoming wealthy through network marketing.
From hardship to success
 Cabán is a self-made man who is proud to point to his personal struggles as the keys for his current success. At 25, the newest Diamond member of Vida Divina found himself bankrupt, separated from his wife and daughter, and drowning in debt. The economic crisis that hit Puerto Rico was too much for his brick-and-mortar business to sustain, and he went under –seeing the collateral damage of his professional problems seep into his personal live.
He found a viable outlet to his situation in network marketing, to which he had been introduced by a former business associate, but he really gained traction when he partnered with one of his mentors in the industry, Alberto Torres.
My beginnings were difficult. I didnt have enough experience to make network marketing my main source of income, but I had no other choice.
Every day I went out looking for prospects anywhere: in stores, gyms and even in flea markets. I offered the product more than the business', said Cabán of his initial steps in the business.
But little by little things got better, until I started making about $200 a day, which was very good in Puerto Rico.
I always kept in mind I didnt want to work for anyone and that was a good reason to pursue a career as a networker. I need to thank God first, but also the wonderful people who have helped me along the way, like Alberto Torres; my first mentor and the one who planted the network marketing seed in me'.
Everything took a turn for the better in 2016, when Cabán met his current partner, Steven Juarbe. I made him a proposal to work together, and that very day we decided to join forces and start a new venture with another company. Naturally, this totally changed our modus operandi', said Cabán.
 A different training system
 According to Rafael Cabán, one of the first things he decided to do with his new partner was develop a training system, which includes sales strategies that were true and tested, and that have become the best way to create duplications with the leaders in their network.
I always tell my partners: '˜It doesnt matter what works, it only matters what duplicates.
We have a basic method for everyone: First, we implement the five steps put together by our CEO, Armand Puyolt, but we also have our own training system based on our own experiences as networkers', said Cabán. Its very important making sure our teammates create duplications uniformly, using with the same strategies, and all speaking the same language.'
This is the key for Rafael Cabáns success, as he knows that in network marketing there is no need to reinvent the wheel; when something works it needs to be duplicated and executed perfectly, and results will come along. Thats why designing a program that could train his network to easily learn and put these principles to work was one of the first goals he set for himself. It has paid dividends for him.
Rafael Cabán, having achieved Diamond rank in just 15 months at Vida Divina, has a very important piece of advice for other marketers: understand the power of words. Thinking about a purpose is not the same as naming it and putting it into action. Once your goals stop being just ideas, they become more real and attainable', he concluded.
About Vida Divina
Vida Divina had one of the most Successful Launches in history, In less than a few years, Vida Divina has grown exponentially. The company has reached more than 32 countries and built up an empire of office buildings all around the world and its own manufacturing facilities.
Vida Divina®Recently has been honored as:
One of the 100 Solid Top MLM Companies For 2018.
Rated AAA+ Network Marketing Opportunity buy Business For Home
Founded by Network Marketing Legend Armand Puyolt, has been in the Top Network Marketing Earners ranks for over 25 years as a distributor, and has been selected by Business for Homeas one of the ambassadors of the network marketing industry.
Vida Divina offers a full line of health products, cosmetics, energy drinks, weight loss enhancers, chemical-free baby foods, among other products designed to enhance the human bodys abilities to cope with the stress of modern world and lack of nutrients.
As a debt-free company, Vida Divina was created like an Ark, to carry as many people to success as possible, and giving them an opportunity to change their future forever. For more information please visit www.vidadivina.com.