Steven Juarbe Achieves Diamond Rank With Vida Divina
July 18, 2018
By Team Business For Home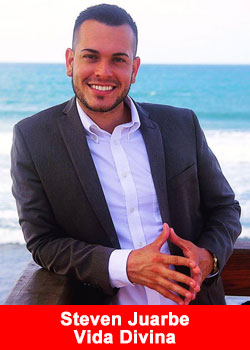 Vida Divina, a global direct marketer of nutritional and healthy lifestyle products, announced today that Steven Juarbe from Puerto Rico  has obtained the rank of Diamond. 
Puerto Rican businessman Steven Juarbe achieved Diamond rank with up-and-coming company Vida Divina, only 20 months after he joined the firm.
Juarbes network is currently moving 6 figures in monthly revenues, which is an outstanding record in such a short time.
Juarbe credits his success to a business approach focused not only on revenue but also on the education of his team members.
We reach people from all walks in life, and our goal is empowering and turning them into entrepreneurs and real professionals in the networking career',
he says.
 Juarbe was invited into Vida Divina by fellow Puerto Rican Rafael Cabán, and they immediately decided to join forces. Together, they created a complex system of coaching that relies mainly on online social platforms.
They currently have three YouTube channels with plenty of tutorials, strategies and motivational messages. Their YouTube activity encompasses already around 10,000 subscribers, with whom Juarbe is keeps a constant interaction.
At 26, Steven Juarbe is already an eight-year networker. His original plan in terms of career was becoming a professional baseball player, but an injury on his pitching shoulder forced him to change plans at the age of 18. Before entering Vida Divina, he worked in two MLMs, where he learned the basics of speaking in public and persuading prospects.
Terrifying beginning'
 The first time I did a presentation, I was in front of five people,' says Juarbe, and I was so nervous that I had to take an Imodium pill before to prevent any possible accidents. I was just terrified.'
Being a teenager, his contacts were mostly among kids his age, and this became an obstacle as they were not actually interested in the business opportunity he had to offer. Thats how Juarbe began reaching out to new and different circles.
Little by little, he was not only a great networker but also a real motivator and lecturer, with a background of studies, readings and hundreds of hours of experience.
Eight years into network marketing, his current network is formed by an estimated 10,000 people in 16 countries: Mexico, Colombia, El Salvador, Costa Rica, Panama, Peru, Ecuador, Dominican Republic, Chile, Guatemala, Honduras, Nicaragua, Puerto Rico, Paraguay, Spain and the US.
And, although he has visited most of the countries where he holds business, social networks are his main platform to reach prospects.
 Currently based in Orlando, Fl, Juarbe stresses Vida Divina has been his most successful enterprise and, at the same time, his most enlightening professional journey. I still have many dreams,' he says.
I see myself as a motivator and lecturer in the near future, traveling around the world and helping thousands of people.'
He goes beyond as he says he would like to open a university, a whole education system for the network marketing business. Ive learned so much these years, Id love to share that with others,' he says.
About Vida Divina LLC
Vida Divina®had one of the most Successful Launches in history, In less than a few years, Vida Divina has grown exponentially. The company has reached more than 32 countries and built up an empire of office buildings all around the world and its own manufacturing facilities.
Vida Divina®Recently has been honored as:  One of the 100 Solid Top MLM Companies For 2018. DSN's #85 in the Global 100 Rated AAA+ Network Marketing Opportunity buy Business For Home
 Founded by Network Marketing Legend Armand Puyolt, has been in the Top Network Marketing Earners ranks for over 25 years as a distributor, and has been selected by Business for Home as one of the ambassadors of the network marketing industry.
Vida Divina offers a full line of health products, cosmetics, energy drinks, weight loss enhancers, chemical-free baby foods, among other products designed to enhance the human bodys abilities to cope with the stress of modern world and lack of nutrients.
As a debt-free company, Vida Divina was created like an Ark, to carry as many people to success as possible, and giving them an opportunity to change their future forever. For more information please visit www.vidadivina.com.