AIM Global Recognizes 5,700+ Top Leaders At Awards Night 2018
August 27, 2018
By Team Business For Home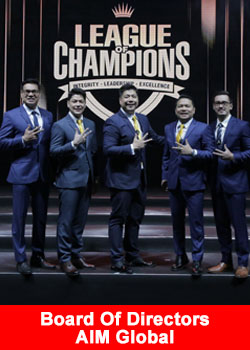 For the past twelve years, Alliance In Motion Global, Inc. has been recognized worldwide for its unprecedented approach in the MLM direct-selling industry with groundbreaking products.
AIM Global has been committed to always look for more innovative approaches to create more millionaires and help more ordinary people to become extraordinary millionaires. The multi-awarded company is also dedicated to give back to the less fortunate and to communities that are in need.
Excellence is not a skill, it is an attitude,'
Chief Executive Officer and Visionary President Dr. Ed Cabantog stressed to the 15,000 attendees during his speech at Alliance In Motion Globals Annual Silver Executives and Gold Executives Awards Night last August 12, 2018 at the Mall of Asia Arena.
Harping on the theme of League of Champions,' the event was hosted by esteemed mentors Mr. Jurgen Gonzales (Vice President for Business Development) and Mr. Arnel Limpin (Vice President for Training and Network Development) who further underscored the qualities of true champion leaders.
The companys Board of Directors and Founders, Chief Finance Officer Engr. Francis Miguel, Chief Marketing Officer Mr. John Asperin and Chief Executive Officer & Visionary President Dr. Ed Cabantog together with Chairperson of ALIVE Foundation & Director of International Affairs Dr. Connie Cabantog were also present at the event, along with the Top 20 leaders, AIM Global Hall of Fame Awardees and AIM Globals Marketing Team.
As the hosts welcome the attendees and guests, Mr. Limpin and Mr. Gonzales emphasized that everyones success stories are collaborative works; everybody made an effort to keep each other motivated, inspired, trained and up to date with the latest updates regarding the company and its new products.
Chief Finance Officer Engr. Francis Miguel is singularly responsible for mentoring many self-made millionaires. Aside from his achievements, being one of the movers and shakers in the direct sales industry and his continuous search of ways and means of improving himself have earned him the respect from everyone in the industry. Engr. Miguel talked all about the importance of having an integrity with oneself and on the products.
Be the product of your products to establish your integrity with people. Its hard if we focus on money. What if you lose all your money? What will happen to your integrity if you lose all your money?'
After the empowering speech of the Mentor of All Mentors,' the attendees also gave their full attention to the five leaders that lent their voices to share their own success stories about health and wealth and their transformative experiences with AIM Global that helped shaped who they are now.
Ms. Terence Miranda and Silver Executive Awardee Atty. Vanesa Sampilo, shared their battles with rheumatic heart disease and cancer during the event, respectively. With the help of AIM Globals flagship product C24/7, both had beaten their life-threatening illnesses. They are now leaders in their own groups of aspiring distributors.
Global Ambassadors and members of Millionaires Circle, Ms. Ginavie Taruballes, Mr. Ronald Robante and Mr. Denn Mark Ebora also gave inspiring speeches about the contrasts of their lives before joining AIM Global and to where they are now. From struggling to survive everyday to owning multiple houses, driving luxury cars, managing successful businesses and travelling all over the world. They have gained all these because of their hard-work and determination to achieve their biggest dreams and goals.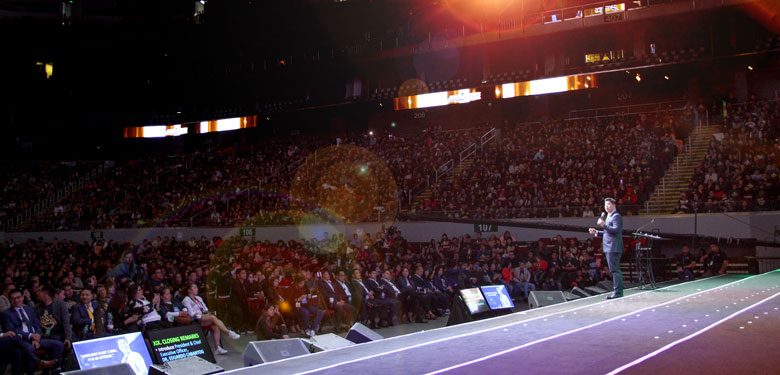 AIM Globals Mr. Excitement' Chief Marketing Officer Mr. John Asperin, also shared his wealth of knowledge about leadership to the whole arena. Like a true champion leader, he shared his belief that
Leadership is much more an art, a belief, a condition of the heart, than a set of things to do.'
He encouraged the crowd to be a leader that plans to achieve more. He believes that a true champion leader must know how to respect his commitments and knows how to be a good example to his followers.'
As the main highlight of the night, a total of 4,773 Silver Executives and 963 Gold Executiveswere given due recognition.
As the night progressed, Pilipinas Got Talents ElectroKidz gave an electrifying performance that wowed the crowd of 15,000 as they showcased their exceptional talent in dancing while Filipino singer Michael Pangilinan serenaded the audience with his suave song numbers. Acompilation of videos from the 12thAnniversary Convention of AIM Global, the Leadership Summit in Batangas, the ALIVE Foundation charity programs, the Maldives Incentive Trip and the Dubai Trip of the Top 20 leaderswere showcased as well.
Integrity. Leadership. Excellence,' Chief Executive Officer & Visionary President Dr. Ed Cabantog reminded its leaders and membersof the values AIM Global is campaigning during the event. He also shared his insights on how to gain leverage in the multi-level marketing industry. He divulged that one must have the attitude of being the best and being excellent in everything that they do.
Why do you need to excel?' Dr. Cabantog asked the audience.
Only in excelling that you will achieve something great. If you achieve something great, you cannot be an average person or a mediocre person. You cannot be just good or just a normal person. If you want to achieve something big, something great'¦ you need to excel!
You need to excel at something or at most of the things that youre doing. With what we do, when we present, when we sell, when we follow-up, when we train, when we duplicate, when we grow our network online, offline, locally or internationally'¦ you need to excel! Why? Because only in excelling will you achieve something great. You want to become a silver executive? You need to excel! You want to become gold executive? A Millionaires Club member? A Global Ambassador? You need to excel! You want to build a global network? An online network? You need to excel!'
Excellence is not a skill, you can never learn excellence,' Dr. Cabantog added.
Excellence is an attitude. When you wake up in the morning, you have to have an attitude of doing your best at something, at some of the things or most of the things or all of the things that youre doing. So, whenever youre going to do something, have an attitude of doing your best.'
The Visionary President' also revealed the newest updates for the future travel incentive trips. There are no longer time frames that may hinder ones dreams of an all-expense paid trip abroad because for as long as you earned the needed accumulated points, you will be qualified to go.
This remarkable revelation is considered a travel breakthrough' in the MLM-Direct Sales industry.  Dr. Cabantog further revealed that El Nido, Hong Kong, China, Maldives, Jeju Island, Japan and Dubai will be the travel destinations for the next incentive trips.
To cap off the celebrated event, Klarisse De Guzman, one of the countrys most talented singers, belted out high-notes that made the crowd of 15,000 ecstatically cheer, sing-along and dance the night away.
ABOUT AIM GLOBAL
Founded by Network Marketing icons Raymond John' Asperin, Engr. Francis Miguel and Dr. Eduardo Cabantog in 2006, Alliance In Motion Global (AIM GLOBAL) is the leading direct sales network marketing company in the Philippines. The company markets and distributes top of the line Nutraceutical supplements, weight loss wellness products, personal care and skincare products, functional beverages and premium lifestyle products.
The company is a proud member of MLMIA (Multi-Level Marketing International Association) in USA, founding member of Direct Selling Association in Pakistan (DSAP) and Direct Selling Education Institute (DSEI) of Dubai, UAE.
AIM Global has 130 business center offices in the Philippines and has global offices in 19 countries namely Hong Kong, Singapore, Taiwan, Brunei, Papua New Guinea, UAE, Kuwait, Pakistan, Hawaii, Nigeria, Ghana, Kenya, Uganda, Togo, Ivory Coast, Cameroon, Tanzania and Rwanda.
AIM Global is categorized as +AAA' business opportunity, Top 100 Solid MLM Direct Sales Company 2018, Top 10 Momentum Direct Selling Companies 2018, Founder/Director/CEO and Visionary President Dr. Eduardo Cabantog as one of the Ambassadors of Network Marketing '" Hall of Fame 2018 by Business For Home and the top awardee in the Direct Sales category of Asia Pacific Entrepreneurship Awards 2017.