Avon Products Q2 Sales Down 3% To $1.3 Billion
August 3, 2018
By Team Business For Home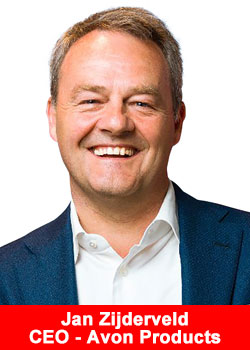 Avon Products, Inc. (NYSE: AVP) today announced its results for the quarter ended June 30, 2018.
Jan Zijderveld, Avon CEO said,
"Entering my seventh month at Avon, I am encouraged by improved revenue growth in 3 of our top 5 markets and the promising trends we are seeing across the majority of the rest of our business.

This is underpinned by our improving service quality and operational efficiencies, and in turn reflected in our higher operating margin.

However, we are not yet satisfied with the overall operating results of the quarter."
Mr. Zijderveld continued,
"The senior leadership team and I continue to focus on immediate corrective priorities, while also finalizing plans for Avon's long-term success. We are prioritizing achieving profitable, sustainable topline growth by focusing on our Representative experience and satisfaction through enhanced training for 500,000 Representatives in the second half, as well as new sales incentives programs, better service and improved forecasting.
We are becoming more agile, halving the time to bring on-trend products to market with over 200 expected to launch in the second half. We will support our second half global launches with an additional $30 million of advertising and marketing spend.
And, finally, we are placing digital at the center of all actions to drive our future progress, enhancing our digital and e-commerce capabilities through initiatives such as our new mobile e-brochure, which is locally customizable and distributed via social media. This is an important first step to build a digital social selling beauty company."
"Importantly, Avon is rapidly injecting new talent and capabilities into the business, most notably a new Chief Digital Officer and three new General Managers in our top markets, while we continue to institute a performance culture through increased accountability, agility and speed of execution," concluded Mr. Zijderveld.
Jamie Wilson, Avon CFO said, "During the second quarter, we successfully completed the early redemption of our 2019 bonds to reduce our debt and further strengthen our balance sheet. We also continued to generate efficiencies, and will strive to improve on these second quarter trends in the second half. We are strategically redirecting investments to support underlying growth initiatives."
About Avon Products, Inc.
Avon is the Company that for 130 years has proudly stood for beauty, innovation, optimism and, above all, for women. Avon products include well-recognized and beloved brands such as ANEW, Avon Color, Avon Care, Skin-So-Soft, and Advance Techniques sold through approximately 6 million active independent Avon Sales Representatives. Learn more about Avon and its products at www.avoncompany.com.