LifeVantage CEO Named To DSA Board of Directors
August 23, 2018
By Team Business For Home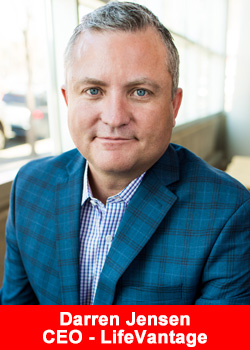 Darren Jensen, CEO and President of LifeVantage Corporation (Nasdaq:LFVN), was recently elected to the Direct Selling Associations (DSA) Board of Directors. He is one of six new directors elected to the board.
I am pleased that Darren Jensen has been elected to serve on the Direct Selling Associations Board of Directors,'
said Joseph N. Mariano, President of the Direct Selling Association.
Direct selling is poised to play an increasingly dynamic role in what is emerging as the future of retailing, and the spirit of entrepreneurship that has enabled Darren to lead LifeVantage to empower its independent contractors in exciting new ways will be an asset to DSAs board as we continue to write direct sellings next chapter.'
The Direct Selling Association is a national trade association that represents the direct selling industry and advocates on behalf of its 200-plus member companies. The board consists of 22 industry leaders who serve as officers and directors, as nominated and elected by their peers.
Jensen will serve a three-year term as a board director through 2021.
I have been associated with the Direct Selling Association for the better part of 30 years and am grateful for this opportunity to be able to give back and serve in this capacity,'
Jensen said.
I look forward to serving and representing the associations global membership and helping advance its initiatives at a very important time in the history of our industry.'
In addition to leading and directing the affairs of the association, board members are charged specifically with promoting the DSA code of ethics. Board leadership also carries government relations, education, and research responsibilities.
Jensen and his wife, Carolee, are the parents of 5 children and impending grandparents of 1.
Jensen was named president and CEO of LifeVantage in 2015 and has since shaped the company into one of the worlds foremost biohacking companies and authorities. He has nearly 30 years of experience in the direct selling industry and has co-founded two DSN Global 100 companies and served in a gamut of leadership capacities over the arc of his career for a variety of privately and publicly-held companies in the industry.
In addition to his new board responsibilities, Jensen also serves as a member of the CEO Council for the World Federation of Direct Selling Associations.
About LifeVantage Corporation
LifeVantage Corporation (Nasdaq: LFVN) is a pioneer in Nutrigenomics '" a new science dedicated to biohacking the human aging code.
The company is engaged in the identification, research, development and distribution of advanced nutraceutical dietary supplements and skin care products, including Protandim®, a line of scientifically-validated dietary supplements; TrueScience®, a line of Nrf2-infused skin care products; PetandimTM for Dogs, a companion pet supplement formulated to combat oxidative stress in dogs; Axio® Smart Energy Drink mixes; PhysIQTM, a Smart Weight Management System; and Omega+, a 3-in-1 fish oil supplement.
LifeVantage was founded in 2003 and is headquartered in Salt Lake City, Utah. For more information, visit www.lifevantage.com.