Nerium International Announces Top Executive Appointments
August 7, 2018
By Team Business For Home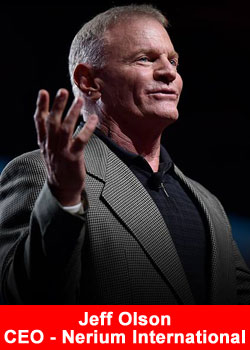 Nerium International Founder and CEO Jeff Olson is honored to announce the appointment of direct sales industry veterans Brad Wayment as the companys new President of Global Markets starting on August 24 and Mark Nicholls, CPA, as Chief Financial Officer.
Both Wayment and Nicholls will report to Nerium International Co-CEO Deborah K. Heisz.
We are enthused about Brads role as President of Global Markets leading our global skincare and wellness company.

Brad has more than 15 years of executive leadership and consulting experience in the direct selling industry '" an asset to our fast-growing relationship marketing company. With rapid growth, there is a need for his brand of proven industry expertise,'
said Heisz.
Wayment will lead in the role of overseeing global strategy and directing all Neriums international operations throughout North America, Asia-Pacific, Latin America, and Europe.
Im thrilled for the opportunity to join the Nerium family and lead the global markets through this next growth phase. It is an honor to work with such a talented management team and amazing field leadership,'
said Wayment.
Wayment received his Masters in Business Administration and Bachelor of Arts in Spanish from Brigham Young University. He has previously worked in the direct selling industry for multiple DSA Top 20 companies in various executive roles.
CFO Mark Nicholls comes to Nerium with a track record of strong financial leadership in the direct sales business,'
said Heisz.
Nicholls will direct finance teams at Nerium Internationals global headquarters in the United States and Nerium offices around the world. I am honored to be a part of the incredible relationship between the Nerium team and the Brand Partners.
In my new role as CFO of Nerium International, I look forward to working with all aspects of the company to provide a strong financial foundation that benefits all constituencies,' said Nicholls.
Nicholls received his Bachelor of Business Administration in Finance and his Master of Science in Taxation from the University of Texas at Arlington. His previous roles include being CFO at publicly-traded and private companies, leading global treasury departments, and taxation functions.
Nerium International is very excited for Wayment and Nicholls' contribution to the future growth of the company and for their leadership on the Nerium executive team.
About Nerium International
Based in Addison, TX, Nerium International is a global relationship marketing company with age-fighting products crafted from cutting-edge research and science. Founded in 2011, Nerium International has shattered industry sales records while developing a strong customer base in North American, Latin American, Asia-Pacific and European markets.
This unprecedented success has allowed Nerium International to generate $1.5 billion in cumulative sales after six years. Nerium International was recognized for its historic growth by ranking No. 1 on the 2015 Inc. 500 List of fastest-growing private U.S. companies in consumer products and services and No. 12 in overall, as well as No. 38 on the 2016 Direct Selling News Global 100 List. Led by an executive leadership team with vast domestic and international experience, Nerium International is committed to providing an excellent product line based in real science and providing its Independent Brand Partners with a life-changing and outstanding business opportunity through relationship marketing.
For more information, please visit: https://www.nerium.com/.