OMNIA Opens USA And Japanese Market
August 11, 2018
By Team Business For Home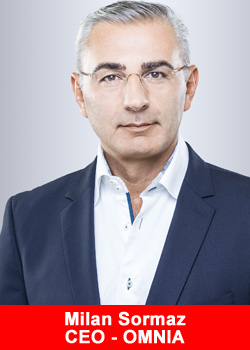 OMNIA, a a global leader in blockchain technology, just celebrated their one-year anniversary  During that time they opened what is believed to be the single largest cryptocurency mining farm in the World in their 20,000 square meter facility in Yerevan, Armenia.
They have also expanded their base of IBOs worldwide to numbers reaching hundreds of thousands.
OMNIA has set up a historic event for their Global Launch, by opening the doors for the first time the major countries of United States and Japan.
We feel we have some of the hardest working IBOs in the industry.'
Stated CEO Milan Sormaz.
Its unbelievable the number of Diamonds & Blue Diamonds we have celebrated this year… in record setting times mind you. So, for them we really want to make this Global launch the biggest, most exciting and for sure most memorable event of their lives.'
The event will take place starting October 20th at the Multi Grand Pharaon Hotel in Yerevan, Armenia.
We will be giving away something in the tune of a million dollars in prizes at this event.'
Milan says,
We have a grand prize which will be held by a live raffle drawing, which is for a 20 BTC trading package with our semi-autonomous trading algorithms. Basically OMNIA will provide 20 BTC for them to have traded for 48 weeks. The estimated return on that is around 24 BTC – you do the math! But this is just one of dozens of prizes, were giving away many more trading packages, watches, electronics – all the things everyone wants to win.
OMNIAs goals for year two in business include officially entering two of the worlds largest crypto currency markets, USA and Japan. All this with intentions on becoming a global leader in blockchain technology over the next decade.
About OMNIA
Headquartered in Cyprus, OMNIA is a leader in the blockchain industry and offers a unique strategy for anyone to effortlessly participate. Our products and services are strategically sound enough to attract those that are blockchain savvy already and simple enough for those who are new to the world of cryptocurrency to begin their journey.
Where allowed, OMNIA offers lifetime mining services for Bitcoin, Ethereum and other alternative cryptocurrencies in our mining catalog as well as a variety of other blockchain-related products and services.
OMNIA is comprised of professionals who possess years of experience in this space since the inception of Bitcoin. We have a scalable infrastructure that is secure and fully optimizable, capable of being a major part of the future of blockchain.
For more information please visit www.omniatek.com