Pro Baseball Hall of Famer Goose Gossage Joins Kannaway
August 29, 2018
By Team Business For Home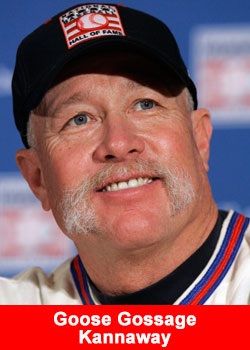 Medical Marijuana, Inc. (OTC: MJNA), the first-ever publicly traded cannabis company in the United States, announced today that former New York Yankees and San Diego Padres right-hand relief pitcher and Pro Baseball Hall of Famer Goose Gossage has become a spokesperson for its subsidiary Kannaway to help spread awareness on the benefits of cannabidiol (CBD) for athletes and active consumers.
"We're looking forward to working with Goose Gossage to continue spreading awareness about the health and wellness benefits of CBD,"
said Kannaway® CEO Blake Schroeder.
"His personal story is a prime example of how CBD is a great supplement that can be taken daily to help people, especially former athletes, continue living active lifestyles and we are thrilled to have such a passionate spokesperson join our team."
Kannaway is the first hemp lifestyle network to legally offer hemp-based botanical CBD wellness products. Its Kannaway Sports division is connecting athletes with the education and products they need to help them live happier, more fulfilling lives. Earlier this month, the Company announced it had booked its largest-ever sales revenue quarter in their history in Q2 2018, as well as reached major milestones in their business operations.
"Playing baseball for 22 years can cause a lot of wear and tear, and I am so excited about what Kannaway CBD products have done for me,"
said Gossage.
"I take the Kannaway Pure CBD every morning and night, along with the Gold Premium Oil Oral Applicator, and I feel unbelievably better. I'm really excited about where I was before CBD and where I am now, and I hope my story can help spread awareness on the benefits of CBD."
"It is a privilege to partner with individuals and athletes such as Goose Gossage who share the same goal of increasing education and access to CBD in the U.S. and throughout the world," said Medical Marijuana, Inc. CEO Dr. Stuart Titus. "We hope this partnership will help people understand that CBD isn't something that people take to get high, it's something that they take to get healthy."
About Kannaway

Kannaway is a network sales and marketing company specializing in the sales and marketing of hemp-based botanical products. Kannaway currently hosts weekly online sales meetings and conferences across the United States, offering unique insight and opportunity to sales professionals who are desirous of becoming successful leaders in the sale and marketing of hemp-based botanical products.
About Medical Marijuana, Inc.

We are a company of firsts Our mission is to be the premier cannabis and hemp industry innovators, leveraging our team of professionals to source, evaluate and purchase value-added companies and products, while allowing them to keep their integrity and entrepreneurial spirit. We strive to create awareness within our industry, develop environmentally-friendly, economically sustainable businesses, while increasing shareholder value.
For details on Medical Marijuana, Inc.'s portfolio and investment companies, visit www.medicalmarijuanainc.com.