AIM Global Officially Launches Tanzania Branch With 2,000 Attendees
September 30, 2018
By Team Business For Home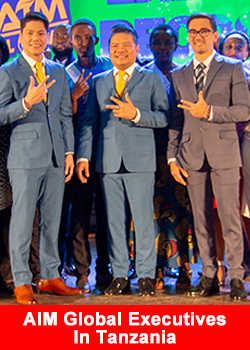 The Tanzania branch of AIM Global is considered as a promising branch with huge potential.
Before officially launching its branch, AIM Global Tanzania held a Recognition Rally at the Julius Nyerere Convention Center last August 16, 2018 to celebrate the success of new Silver Executives and Gold Executives, and the Top 20 leaders, new car achievers, members of the Millionaire Circle and Speakers Bureau.
Over 2,000 distributors came to the event and witnessed the recognition rites. Ms. A. Kuwese bagged the top spot for the Top 20 leaders in AIM Global Tanzania while Mr. I. Mkeya and Mr. E. Lutabingwa nabbed the second and third spots, respectively.
Product testimonials were provided by Mr. A. Mrindoko and Ms. A. Komba while Ms. F. Mbwafu and Mr. E. Lutabingwa shared their stories of success and what they went through before becoming multi-millionaires today.
The next day, August 17, 2018, AIM Global officially opened its Tanzania branch office in Dar Es Salaam. AIM Global Executives, Chief Finance Officer Engr. Francis Miguel, Chief Marketing Officer Mr. John Asperin, and Vice President for Business Development Mr. Jurgern Gonzales were there to grace the celebrated event along with AIM Global International Trainers Mr. John Gay and Mr. Miko Imson and AIM Global's Medical Consultant Dr. Butch Villena, AIM Global Tanzania Branch Manager Mr. Edmund Rula and branch staff.
Chief Marketing Officer Mr. John Asperin welcomed and congratulated the Tanzanian leaders that were present at the grand launching ceremony.  "Today is a very golden day because today is the start of something big! All of you right here, you are the pioneers of this company here in Tanzania!"
Mr. Asperin also left them an important advice about being a good leader. "Everybody wants to earn, but first you have to learn. This is one of the first things you have to learn, remember that teaching is also learning. Remember that when you're learning, learn not only for yourself. Learn to teach your downlines, teach them how to become like you."
Over 2,000 distributors swarmed the Mtana Hall of the LAPF Tower to attend the first-ever AIMcademy Tanzania. AIM Global Executives were also at the event and gave several seminars and trainings to the aspiring distributors.
Dubbed as the 'First and Best,' the attendees were motivated to do great and have the mindset and the attitude of a true champion. The company brought the best speakers for this momentous occasion.
Chief Finance Officer Mr. Francis Miguel remarked:
"Today, ladies and gentlemen, I encourage everyone to dream big dreams… You can also help and give back to your community if you have so much blessings… This will be your future, not only you're going to make more money, you can help other people as well."
"We will provide freedom for each and everyone of you. As long as you believe, as long as you put in the hard-work… one day, ladies and gentlemen, you will get your dreams in Alliance In Motion Global. If we work as one, if you work with your team, with the management, with the company, with your crosslines, downlines and uplines… nothing can stop us here in Tanzania,"
Vice President for Business Development Mr. Jurgen Gonzales reminded everyone that the powerful combination of financial freedom and unity will help the Tanzanian community achieve success and great momentum.
International Business Trainer and Life Coach John Gay and International Trainer Mr. Miko Imson shared about marketing strategies such as identifying target market and mastering the intricacies of the MLM direct-selling industry.
AIM Global Medical and Product Trainer Dr. Butch Villena gave a product presentation about AIM Global's flagship product, the C24/7. Dr. Villena revealed the health benefits of taking C24/7 as well the importance of eating right and being fit and healthy. C24/7 is a breakthrough food supplement that contains the highest level of anti-oxidants with ORAC value of 208,204.5 per blister pack measured by Brunswick Laboratories in USA.
Dr. Villena also presented other products of AIM Global such as the Complete Phyto-Energizer, RestorLyf, MyChoco and the Liven Alkaline Coffee.
Complete Phyto-Energizer is the very first mega-nutritional product introduced in the Philippine market while RestorLyf contains a beneficial longevity formula from Nature's Way, USA. MyChoco is a chocolate drink fortified with DHA, essential to mental, visual & neurological acuities needed for memory, concentration and focus while Liven Alkaline Coffee is a premium Arabica coffee blend with Complete Phyto-Energizer. Liven Alkaline Coffee is available in four variants – Latte, Cappuccino, Sugar-Free and Original flavors. All of these products are now legally registered with Tanzania Ministry of Health as safe dietary supplements.
With its remarkable start and its promising top leaders that will soon be the next future icons, AIM Global Tanzania will undoubtedly leave its mark as one of the unstoppable forces in the MLM direct-selling industry in the East African region.
ABOUT AIM GLOBAL
Founded by Network Marketing icons Raymond "John" Asperin, Engr. Francis Miguel and Dr. Eduardo Cabantog in 2006, Alliance In Motion Global (AIM GLOBAL) is the leading direct sales network marketing company in the Philippines. The company markets and distributes top of the line Nutraceutical supplements, weight loss wellness products, personal care and skincare products, functional beverages and premium lifestyle products.
The company is a proud member of MLMIA (Multi-Level Marketing International Association) in USA, founding member of Direct Selling Association in Pakistan (DSAP) and Direct Selling Education Institute (DSEI) of Dubai, UAE.
AIM Global has 130 business center offices in the Philippines and has global offices in 19 countries namely Hong Kong, Singapore, Taiwan, Brunei, Papua New Guinea, UAE, Kuwait, Pakistan, Hawaii, Nigeria, Ghana, Kenya, Uganda, Togo, Ivory Coast, Cameroon, Tanzania and Rwanda.
AIM Global is categorized as "+AAA" business opportunity, Top 100 Solid MLM Direct Sales Company 2018, Top 10 Momentum Direct Selling Companies 2018, Founder/Director/CEO and Visionary President Dr. Eduardo Cabantog as one of the Ambassadors of Network Marketing – Hall of Fame 2018 by Business For Home and the top awardee in the Direct Sales category of Asia Pacific Entrepreneurship Awards 2017.