Chi Nguyen Achieves Double Diamond Rank With Valentus
September 14, 2018
By Team Business For Home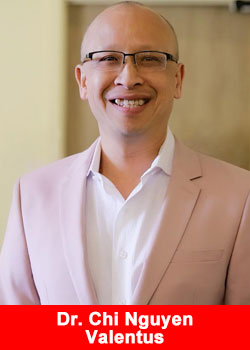 Dr. Chi Nguyen has achieved the Double Diamond Rank At Valentus. This is what he had to say upon hie achievement:
When the dust cleared at the end of the Vietnam War in April 1975, my family found ourselves citizens of a country that no longer existed. As we stepped foot on American soil at Camp Pendleton in San Diego, we knew we had to begin our lives over.
My parents began living a future more complex than they could ever imagine.
For the next 28 years, my parents worked tremendously hard mentally and physically to support their five children. Having seen and experienced hardship, I knew I had to work hard to succeed. My passion to help others paved my way into the field of medicine.
Besides helping people medically, I wanted to financially help those with hardships.
12 years ago, my wife and I learned about network marketing through a friend. We saw the potential of this industry as a business option driven by effective products.  Timing and positioning are keys that open the door to any opportunity. We felt this to be the perfect time to position ourselves with a great opportunity to help our parents, family, and others.
We understood that network marketing has the advanced products and services that can enhance health and wellness thus allowing people to seek freedom of a better lifestyle.
Having acquired the top-ranked position in our prior company, we were able to achieve unimaginable success in the last five years while helping others obtaining health and wellness at the same time, amassing millions in lifetime earnings and accumulating many prestigious accolades within the industry as a whole.
Valentus then came into our lives when I sat down with our friend, industry leader John Haremza and Valentus CEO Dave Jordan.
What attracted me to Valentus were the CEO?s values, core principles and his commitment to the success of the entire field of independent representatives.
I am impressed by his passion for people and the culture that Dave Jordan and his wife, Joyce have created, ?A Company for distributors by distributors.?
The Valentus products are very effective.  Being a diabetic, I was able to achieve optimal sugar control from drinking the Valentus Slimroast coffee as well as having lost weight. It not only helped me control my diabetes but also helped so many others get healthier as well.
As effective as our products are with all of the unique and amazing testimonials, we are committed to share the benefits of the Valentus products while helping others achieve a more fruitful lifestyle and freedom.
About Valentus
In Latin, the word "Valentus" means "prevail," defined as proving to be superior in strength, power, and influence. Recognizing that, we couldn?t have picked a more fitting name for a company that strives to be the example in an industry that deserves a leader to follow.
Since day one, our focus, our passion, and our commitment have been to create a company, a product line, and an opportunity built on a foundation of integrity.
From creating significant levels of income, to building strong networks, healthy long-lasting relationships, making new friends, participating in activities you never even knew existed, having the time to do the things you love with the people you love to be with, VALENTUS can help you PREVAIL in ALL of your goals! For more information please visit www.valentus.com