Dang Quang Thoai From Vietnam Achieves Emerald Rank With OMNIA
September 13, 2018
By Team Business For Home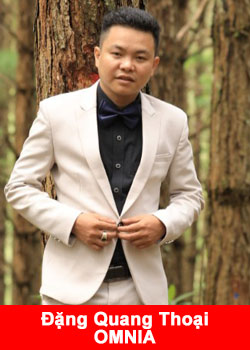 Dang Quang Thoai, known to everyone as Mr. Quang was born and raised in Vietnam. 13 years ago, at the age of 18 he was introduced to Network Marketing and was quickly convinced of the industries possibilities. This potential was exactly the power he had been looking for.
During the first 10 years I really dedicated myself to the industry; through hard work and passion we created a network of over 30,000 in Vietnam alone.

It was in 2014 when I first learned about Cryptocurrency, and just like MLM, I was completely convinced on the future potential of this world changing technology.'
Mr. Quangs success in MLM wasnt immediately carried over into the world of crypto, however.
I lost everything in the first 3 years. As in, I completely failed – not because of the lack of effort, but because we were completely scammed by every company we tried to work with.
Through perseverance and maintaining his belief in blockchain technology, Mr. Quang finally found the company he had been hoping for.
Luckily, in August of 2017 I was fortunate enough to have the opportunity to work with OMNIA. What felt like a miracle happened in just 6 short months.
I created a powerful network of 4,000 members in Vietnam and with our teamwork were having a lot of success.
I personally achieved the rank of Emerald and we are only growing faster and stronger every day. Being able to merge my favorite technology – Blockchain and Cryptocurency, with my favorite business model, Network Marketing'¦ is what I call a dream come true. Its what I wanted and through patience, its exactly what I got and more!
Mr. Quang claims his favorite aspects of the entire experience with OMNIA has been the interaction with his upline and corporate as well as pursuing his expansion of Vietnam.
The best thing is the enthusiastic and responsible support from our Ambassador of Asia, Mr. Tino Ludwig. I sincerely thank him as well as our founder of OMNIA Mr. Robert Velghe and our CEO Mr. Milan Sormaz.
In the next 6 months I will continue bringing this opportunity with OMNIA to more members in Vietnam and globally, with our focus on making Vietnam the biggest market in Southeast Asia!
About OMNIA
Headquartered in Cyprus, OMNIA is a leader in the blockchain industry and offers a unique strategy for anyone to effortlessly participate. Our products and services are strategically sound enough to attract those that are blockchain savvy already and simple enough for those who are new to the world of cryptocurrency to begin their journey.
Where allowed, OMNIA offers lifetime mining services for Bitcoin, Ethereum and other alternative cryptocurrencies in our mining catalog as well as a variety of other blockchain-related products and services.
OMNIA is comprised of professionals who possess years of experience in this space since the inception of Bitcoin. We have a scalable infrastructure that is secure and fully optimizable, capable of being a major part of the future of blockchain.
For more information please visit www.omniatek.com