Mario Vielmas And Giovanna Rentería Achieve Black Diamond Rank At Success Factory – DagCoin
September 9, 2018
By Team Business For Home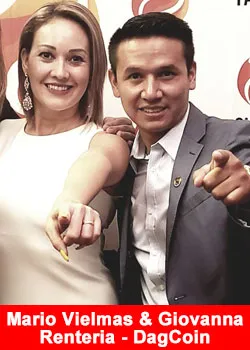 Mario Vielmas and Giovanna Rentería are changing lives in Latin America with the help of Success Factory '" DagCoin.
Mario Vielmas and Giovanna Rentería, life and business partners, have been working in the network marketing industry for fifteen years. They currently hold the rank of Black Diamonds in Success Factory and are part of the Success4All team, led by Igor E. Alberts and Andreea Cimbala, number 1 networkers on the Top Earners list on Business for Home.
As part of Success4All, Mario and Giovanna represent their own team called PUE TEAM, which is especially active in Mexico, where the couple has created a significant impact. They have built organizations in 25 countries in just 7 months, helping at least 100 people to quit their previous jobs so as to devote themselves completely to the network marketing business, already earning the profits they would normally generate in a year, after just one month as part of their team in Success Factory.
The key to the current success of Mario and Giovanna, as they say, is in the focus. They are leaders with a long track record and have built numerous and stable teams, with a strong orientation towards development and education. They explain that their strong point has been, from the beginning, to comply with whatever they would set out to do, through intense and massive practice and preparation.
"When we started, we only looked for a way to pay for our studies and maintain our home until we would be able to practice our profession and start earning money,"
Giovanna says, recalling her first steps in network marketing, –
"We were young, ambitious, determined and also had two small children who encouraged us to do our best and a little more, be it studying to get the best grades or working in order to pay for their education, as well as the bills and the food."
Mario and Giovanna discovered the industry by pure chance and fell in love with it immediately. They finished their studies, received their degrees and decided that the job they were born for was not the job they had learned in college.
Over these years, they have dedicated themselves to practice and improvement so as to become mentors as well. Mario Vielmas, a successful coach and speaker, explains:
 "The secret is, first, to take note of what your mentors say and practice a lot. This is a good start. Then, it is in supporting your team and studying the best strategies for the common growth. When you focus on the goals of the people on your team more than on your own ones, it is when real success arrives."
And why Success Factory – DagCoin? Mario Vielmas says:
"In January, we learned about the opportunity and were amazed by the vision of the company, the solid foundation it had and its well-defined work structure. It is a fascinating technology that promotes the use of cryptocurrency with greater speed and lower transaction costs. But what really convinced us to take the step was the possibility of working together with the leaders like Igor E. Alberts and Andreea Cimbala."
About their future goals, Giovanna Rentería gives a brief, but confident message:
"In the first month, we managed to create a community of more than a thousand people and radically changed the lives of more than one hundred. This is an opportunity with an immense potential, and we have set goals accordingly: we are going to make Dag the most widely used currency in the world, develop leadership and change 100,000 lives only in Latin America."
About Dagcoin
We are a growing and ambitious team based in Estonia, and our goal is to provide a new alternative currency for everyday use '" to create a common currency.
Our team is doing it by making cryptocurrency payments lightning fast, keeping the transaction fees unnoticeably low and creating a system as easy-to-use as possible.
When we talk about IT development, then this is a continuous never ending process because we live in the era of technology and there are so many bright minds in the world who come up with brilliant ideas all the time. We aim to implement as many of them as possible in our system. For more information please visit www.dagcoin.org