No Longer Tired: New TLC National Director Jose Antonio Cuevass Journey
September 14, 2018
By Nicole Dunkley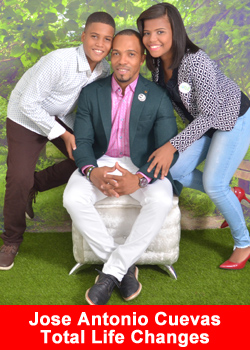 I have always been an active person,' says Jose Antonio Cuevas, but over the years I began to feel tired.
With my family relying on me, I always did my best, but I felt as though I lacked the strength and courage to do my job.'
Like many in Santo Domingo, Dominican Republic, Cuevas worked long hours to keep his head above water, but age and attrition had begun to rob him of vital energy.
The [TLC] NRG dietary supplement changed all of that for me,' he says. A supplement which purports to raise the users energy level by encouraging the body to more quickly metabolize dietary fat, Cuevas quickly became a strong adherent of Iaso® NRG. Now I am able to keep working all day, and the best part is that when the night comes I no longer feel restless from worry.'
On the basis of his own personal testimonial, Cuevas decided to pursue TLC as a business opportunity. He was introduced to National Director Teuriss Alvarez Santos at a meeting, and she agreed to become his initial sponsor. Cuevas was fortunate to find success within his first critical 48 hours as an Independent Business Operator (IBO). Numerous friends answered his call to join up, a steady trickle which would strengthen as his business began to show results.
My why in all of this is my children, my mother and my grandmother,' says Cuevas.
I started with TLC because I felt like their products had helped me and might help others. I was in a terrible economic situation and I wanted more for all of us.'
TLC is a company that focuses on family and helping people achieve their life goals and objectives,' he continues. Many people join TLC because there are no mandatory schedules here.
You can do the business on your own terms and maintain a career at the same time. You dont have worry about a large margin of loss or a huge investment. After you decide to join, its up to you how much you want in. If you put in the work, share the products, help others share the products and clearly explain the business opportunity, you will win.'
In less than two years, Cuevas has ascended to the rank of National Director with TLC, presiding over a strong network of IBOs under his sponsorship. Noted for his energy, hard work and focus, he is a strong believer in community.
My short-term goal is to help as many people as possible improve their lifestyle and achieve their goals because I understand that my success is not only mine, but belongs to my team. Long term, after my team is financially free, I want to know the world, I want to travel, and to present this wonderful opportunity to the largest number of people that I can.'
About Total Life Changes
Total Life Changes offers a diverse product portfolio of health and wellness and a commitment to family and fun. Founder and Tea Executive Officer Jack Fallon created TLC over 16 years ago with a single liquid multivitamin coined: NutraBurst®.
Since that time, TLC has continued to offer a diverse portfolio of products that work matched with a hybrid binary compensation plan that allows IBOs of TLC to be rewarded quickly with retail sales simply by introducing new customers to our products. Find out why so many are saying, It really is different over here.'