Rosy Rivera Achieves Diamond Rank With Vida Divina
September 13, 2018
By Team Business For Home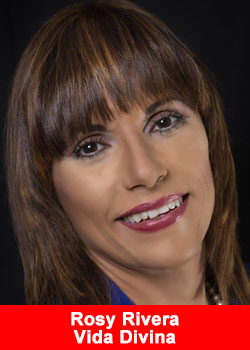 Vida Divina, a global direct marketer of nutritional and healthy lifestyle products, announced today that Rosy Rivera has obtained the rank of Diamond. 
 Working with Vida Divina from the very beginning of the company in 2016, Rosy Rivera has reached Diamond rank in what anybody would deem as an example on how to make the best out of a chance. Rosy lives and works in Puerto Rico, just 20 minutes away from San Juan, and in the comfort of her home Rosy gladly reveals, during a phone interview, in the last month she registered earnings in the 5 high figure mark.
 ?That includes only the profits from networking, but not from the direct sales of products, so I assume the check is a little ?bigger??,
says Rosy, with a smile on her face.
 That?s really amazing considering her background. Some years ago, Rosy Rivera had no choice but to live on a welfare house with her two daughters. ?Now I have four properties in Puerto Rico that I rent to the government. So, it?s kind of a funny situation. You know, going from being dependent to becoming more than independent,? she says.
 For Rosy, life has been hard, and she has no problems in sharing her story. She raised her kids as a single mother at very young age and, at some point, she had four jobs to make ends meet. But then, she met Armand Puyolt, founder and CEO of Vida Divina, and his wife, Esther Ramos. ?I consider them to be my friends, but also an example of people who never give up on their goals and dreams.?
 Rosy started to learn about the networking business and realized perseverance is the key to this business. There are other ?secrets,? that she is always willing to share with anybody who might be interested in making a change in their life.
 ?Perseverance is a very important attitude in this business, but not only that. I have 6,200 people under my responsibility and when I want to tell them about success, the best I can do is set an example. They see you doing your job and they will follow,?
says Rosy with a humble and sincere voice.
It?s necessary, she says, to be convinced that one was born with a purpose in life, and to be aware that hard times can and will come. When Rosy remembers how everything began for her, she sees herself trying the Vida Divina products to lose weight. ?To look good is important in life, because if you look good, you?re going to feel good, so I decided to give it a try to what Vida Divina had to offer,? she recalls.
 Rosy Rivera says she lost 26 pounds in just one month. ?Suddenly, all of my friends, acquaintances and neighbors started to ask me how I managed to get in such a good shape, so I told them the truth: that I was consuming the products of Vida Divina.? Those people got to know not only about the benefits of the products, but also about the business, because Rosy was also doing better financially.
?At that time, I felt I became the ?living proof? of a business that really works at different levels,? says Rosy, who adds that you can be persuasive, hard-working or determined, but nothing would work out if you don?t try the products yourself. Results are the most convincing argument in favor of a business that, she says, gave her real hope for the future.
 About Vida Divina
Vida Divina had one of the most Successful Launches in history, In less than a few years, Vida Divina has grown exponentially. The company has reached more than 32 countries and built up an empire of office buildings all around the world and its own manufacturing facilities. Vida Divina recently has been honored as: One of the 100 Solid Top MLM Companies For 2018.
Rated AAA+ Network Marketing Opportunity buy Business For Home
Founded by Network Marketing Legend Armand Puyolt, has been in the Top Network Marketing Earners ranks for over 25 years as a distributor, and has been selected by Business for Homeas one of the ambassadors of the network marketing industry.
Vida Divina offers a full line of health products, cosmetics, energy drinks, weight loss enhancers, chemical-free baby foods, among other products designed to enhance the human body?s abilities to cope with the stress of modern world and lack of nutrients.
As a debt-free company, Vida Divina was created like an Ark, to carry as many people to success as possible, and giving them an opportunity to change their future forever. For more information please visit www.vidadivina.com.