The Best-Kept Secret in Latin America: TLC's New Colombian National Director
September 12, 2018
By Nicole Dunkley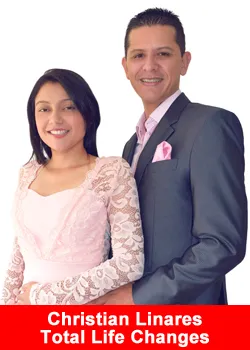 Although Total Life Changes? southern expansion continues to progress at a furious pace, it remains just on the cusp of mainstream awareness. For early adopters Christian Linares and wife Luces Galeano of Medellin, Colombia, the past two years have brought tremendous growth. ?I call it the best-kept secret in Latin America,? says Linares.
The couple each comes from humble origins, tracing their relentless desire to succeed to having known scarcity as children. ?Our parents had dreams, but they had to work very hard just to support us. Now we have the opportunity to fulfill those dreams for them, and that inspires us.?
Like many of TLC?s Independent Business Operators (IBOs), Linares and Galeano discovered the company via social media.
?We were aware of TLC Ambassador Ana Cantera success, and we reached out to her to discuss what TLC could do for us.? After chatting online, Linares went to the Dominican Republic to meet both Cantera and TLC Founder Jack Fallon in person. He was sold by TLC?s pitch of a compensation plan that paid immediate dividends, and the possibility of helping other families.
?We feel like TLC offers something rare in multi-level marketing: a fair plan,? Linares continues. ?We couldn?t wait around to be given our cut of the profits we were generating for a company. With TLC, it?s possible to make money right away. In our experience, their leadership and training system is impeccable.?
Both husband and wife are strong evangelists for the company?s products, with Linares reporting experiencing strong muscle mass gains after adding Techui and Nutraburst® to his diet and exercise routine. Meanwhile, his wife has seen positive effects drinking Iaso® Tea, and an array of other products are in regular use among the rest of their family.
Of course, their health also benefits from a dramatically increased income, which the couple reports as nearing five figures USD per month. With Linares recently being recognized with the rank of National Director, the couple?s sights remain focused on the future.
?Our short-term goals are to help ten leaders within our team earn more than $5,000 per month, to graduate 50 leaders to more than $ 1,000 per month and to give more than 500 people extra income to improve their lifestyle and help their families. We are working on opening up and expanding six new markets as well. We hope to see more families enjoying the same benefits that ours does, and TLC gives us the power to make that happen.?
About Total Life Changes
Total Life Changes offers a diverse product portfolio of health and wellness and a commitment to family and fun. Founder and Tea Executive Officer Jack Fallon created TLC over 16 years ago with a single liquid multivitamin coined: NutraBurst®. Since that time, TLC has continued to offer a diverse portfolio of products that work matched with a hybrid binary compensation plan that allows IBOs of TLC to be rewarded quickly with retail sales simply by introducing new customers to our products. Find out why so many are saying, ?It really is different over here.?