Vadim Rafalskiy And Marina Lyubova From Russia Achieve Diamond Rank With Dagcoin
September 17, 2018
By Team Business For Home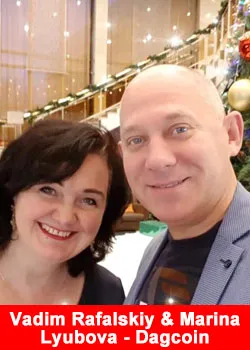 Vadim Rafalskiy boasts more than 20 years of experience in network marketing and Marina Lyubova has 8 years of experience. Both lead the most successful Success Factory – Dagcoin team in Russia.
For Vadim Rafalskiy, the first steps in the industry were not easy, and he tells that during his first years of experience, he started working on many opportunities which would disappear shortly after, making him start over again and again.
Despite that experience, Vadim, far from giving up, began to use those life lessons to learn more about the industry and  teamwork and to detect better opportunities with potential and real projection. But the most important thing, according to Vadim, is to have learned to understand the value of the network that one creates as a networker, beyond the company in which one works at the moment.
"I started looking for partners without having a company. I had no company, no marketing, no product. I just started looking for people with whom I would share dreams and goals. And I found them."
tells Vadim.
It was during that experiment of creating his own network without a company, a product or a compensation plan when Vadim met Marina Lyubova. They and their team have grown since then to position themselves as the main drivers of Success Factory in Russia, where the opportunity is having a very positive reception.
"We are fortunate to be able to work with Kari Wahlroos, who has a great passion for his work, strength and a powerful personality. He knows how to move fast, work with energy and has an entrepreneurial and global thinking. That is one of the reasons why we decided on this opportunity to work as part of his team. But the other reason is in the project itself.
We realized that this is exactly what we need – a global, significant, great cause through which we can change the world for the better! We realized that we have found like-minded people and innovators, those who don't only dream, but do everything to improve the lives of people around the world."
They both started working with Dagcoin in 2017, at a very early stage of the company, after a meeting in Riga, Latvia. This fact makes them feel closer to the project as part of their development.
But in addition to the technological concept, having met the founders from the beginning and relying on Kari Wahlroos, the CNO of the company, as a mentor, what excites Vadim and Marina the most is the network marketing oriented part of Success Factory.
"We respect and love our profession very much. For us, it's not work, but life itself. The corporate staff are wonderful people that inspire you to live the life of your dreams, with their example and results. This profession is not about pursuing money, but rather money is the result of your development. It's about working on yourself as a person and on your relationships with others. And we saw it in the company Success Factory, it's light and wisdom thanks to which the world becomes a better place."
Currently, being important downline members of the Success4All team, led by Igor E Alberts & Andreea Cimbala, Vadim and Marina are present and active in more than 30 Russian cities and have created a training program called Leadership Academy, with 4 levels to develop business and social skills, personal development and other areas of training.
*Disclaimer: This is not an investment advice.
About Dagcoin
We are a growing and ambitious team based in Estonia, and our goal is to provide a new alternative currency for everyday use '" to create a common currency.
Our team is doing it by making cryptocurrency payments lightning fast, keeping the transaction fees unnoticeably low and creating a system as easy-to-use as possible.
When we talk about IT development, then this is a continuous never ending process because we live in the era of technology and there are so many bright minds in the world who come up with brilliant ideas all the time. We aim to implement as many of them as possible in our system. For more information please visit www.dagcoin.org