Youngevity CEO, Steve Wallach, Appointed To Direct Selling Association Board Of Directors
September 14, 2018
By Team Business For Home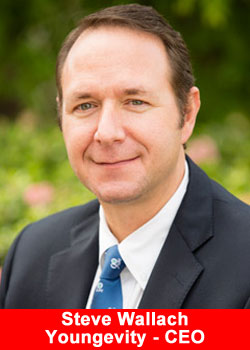 YGYI, Inc. (YGYI), a leading omni-direct lifestyle company, has announced that its Chief Executive Officer, Steve Wallach, has been appointed to the Direct Selling Association (DSA) Board of Directors.
"I'm especially pleased that Steve Wallach has been elected to serve on the Direct Selling Association's Board of Directors,"
said Joseph N. Mariano, President of the Direct Selling Association.
"We believe direct selling will play an increasingly dynamic role in the future of retailing, and the entrepreneurial spirit that enables Steve to empower Youngevity's independent contractors in exciting new ways will be an asset to our board."
The Direct Selling Association is a national trade association that represents the direct selling industry and advocates on behalf of its 200-plus member companies. Its board consists of 22 industry leaders who serve as officers and directors, as nominated and elected by their peers.
In addition to leading and directing the affairs of the association, board members are charged specifically with promoting the DSA code of ethics. Board leadership also carries government relations, education, and research responsibilities.
With nearly three decades of sales and network marketing experience, Steve Wallach has successfully guided Youngevity from a domestic seller to a worldwide marketer of products and services that support a healthy and empowered lifestyle.
"I'm extremely grateful for the opportunity to serve on the DSA Board of Directors,"
says Wallach. "I look forward to helping advance the association's global membership initiatives and being at the forefront of positive change in our industry."
About Direct Selling Association (DSA)
The Direct Selling Association (DSA) is the national trade association for companies that market products and services directly to consumers through an independent, entrepreneurial sales force. DSA serves to promote, protect and police the direct selling industry while helping direct selling companies and their independent salesforce become more successful.
DSA provides educational opportunities for direct selling professionals and works with Congress, government agencies, consumer protection organizations and others on behalf of its nearly 200-member companies.
About Youngevity International, Inc.
YGYI, Inc. (NASDAQ : YGYI ), is a leading omni-direct lifestyle company offering a hybrid of the direct selling business model, that also offers e-commerce and the power of social selling. Assembling a virtual Main Street of products and services under one corporate entity, YGYI offers products from the six top selling retail categories: health/nutrition, home/family, food/beverage (including coffee), spa/beauty, apparel/jewelry, as well as innovative services.
The Company was formed in the course of the summer 2011 merger of Youngevity Essential Life Sciences with Javalution® Coffee Company (now part of the company's food and beverage division). The resulting company became Youngevity International, Inc. in July 2013. For investor information, please visit YGYI.com. Be sure to like us on Facebook and follow us on Twitter.