AIM Global Entrepreneur Pearl Hung is Miss World Philippines Second Princess
October 28, 2018
By Team Business For Home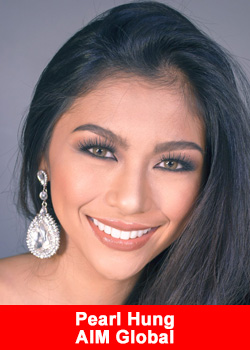 Many people join network marketing with ambitious goals for their future success within the industry, yet others won't just stop at that. While accomplishing their network-marketing dreams, some will use what they learned to get ahead in another field to help them achieve their other life-long dreams.
Such is the "fate" Pearl Hung who is today's Alliance In Motion Global's phenomenal star achiever.
Known as the 'Millennial Entrepreneur' in her hometown, Miss Pearl Hung strived to reach her goals while building her own business at a young age. She has established a remarkable track record as a Youth Spokesperson for both her hometown and the Department of Education, engaging in various inspirational engagements to motivate and inspire the youth.
This beauty queen's rise to success wasn't an easy climb. Born to an affluent family in the island of Palawan, she was orphaned at age 3. Since then, the privileged life she once had was besieged with struggles and challenges. Through her growing years, these difficulties became her backbone to dream big and be successful one day.
Pearl Hung stated:
"You have to believe in yourself that you will be successful no matter what, you have to learn fast in order for you to grow fast. You will get it when you are ready and you deserve it. But along the way make sure to trust the process that life gives you, whatever situation you may have, up or down, you have to enjoy it because there is no such thing as bad, it's all good.

Bad things are good things also if you know how to see it as a gift and an opportunity of growth. I may not be at my peak, still a long way ahead but I know I have made an impact already at my age." 
For her, life is about living and she wanted to inspire people to live, not just to exist. She wanted to influence in a way that she can instill in people's mindset that 'their success is on the other side of their fear.' Pearl embodies what she teaches: she's not afraid to take risks and enjoy life. She uses her past struggles to impart wisdom to the world. She thrives when she's with people who have the same goals as hers. She wants to help give spark to people's dreams, and make them to be the best version of themselves for she believes that helping people is contagious and with it, we can make this world full of inspiration for humanity.
"My vision is to inspire a lot of people and touch as many lives as I can. I can see it will be contagious because my principle in life is finding your purpose is not enough until you help other people find theirs too," Pearl answered when asked to share her plans for her advocacies. She further stated that she " will not just empower people's lives on my own, but will let other people spread the empowerment they have, too."
This young achiever was introduced to the world of network marketing at age 19 and pursued the business with passionate fervor becoming a member of United Empire Alliance. For her AIM Global, is a "God-given opportunity"; a catalyst of positive change and the key to achieving financial freedom.
At the age of 3, my parents died and my life has never been the same again. Life twisted, left with hopes in my heart for a bright future and trust from above that everything has a purpose. Life was blurry until AIM Global came, a God-given opportunity."
Pearl's success streak is nothing short of phenomenal. She got her very first car at age 20. That tangible achievement became a stepping stone for Pearl, for she earned her first million at age 21 and the following year, she brought home her first sports car. The rank of Global Ambassador was bestowed on her at 23, pushing Pearl to become "unstoppable" in her pursuit of success. She continues to be involved in speaking engagements here and abroad.
Pearl is the perfect combination of beauty, charm and brains. As one who never buckles down on challenges, she joined the Miss World Philippines beauty pageant. She believes that this beauty title will further expand her horizon and open doors of opportunities to inspire and empower women to be successful.
"I started doing the business at 19, first car at 20, first million at 21, sports car at 22 and Global Ambassador at 23 years old. I only live once, so I'll make sure it's worth every second."
And last October 7, 2018, the Miss World Philippines pageant was held at the Mall of Asia Arena, Pasay City, Philippines. Avidly supported by AIM Global leaders and members in attendance during the pageant, Pearl finished the "race" fair and square. During the pageant, she was considered a crowd favourite. She emerged  one of the" Top 5" together with Miss  Katarina Rodriguez (who brought home the crown), Miss Maureen Montagne (Miss Eco Philippines 2018), Miss Kimi Mugford (Miss Multinational Philippines) , Miss Alyssa Muhlach Alvarez  (Miss Reina Hispanoamericana Filipinas 2018) and Miss Chanel Morales (First Princess). Pearl won  as Miss World Philippines Second Princess.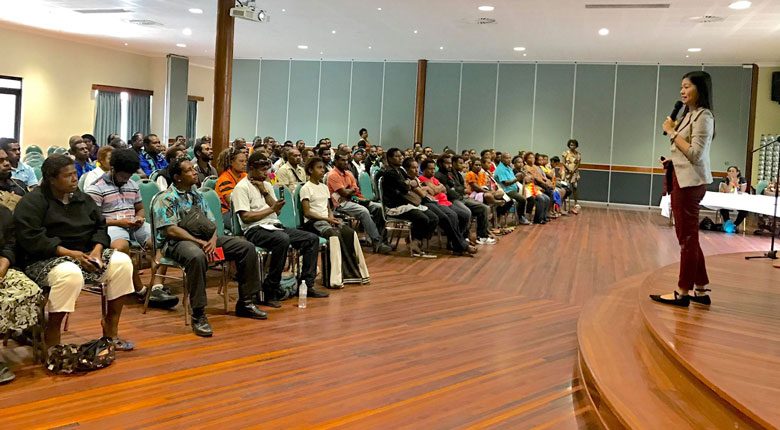 Cupping this beauty title is another feather to her hat.
Pearl Hung, the Millennial Entrepreneur will always be a true AIM Global Champion. Undoubtedly, Pearl has proven to the world that she has beauty and brains. And not only that, she also gracefully shown that she embodies the qualities Alliance In Motion Global has taught its distributors: leadership, integrity, excellence, passion and quality.
ABOUT AIM GLOBAL
Founded by Network Marketing icons Raymond "John" Asperin, the late Engr. Francis Miguel and Dr. Eduardo Cabantog in 2006, Alliance In Motion Global (AIM GLOBAL) is the leading direct sales network marketing company in the Philippines. The company markets and distributes top of the line Nutraceutical supplements, weight loss wellness products, personal care and skincare products, functional beverages and premium lifestyle products.
The company is a proud member of MLMIA (Multi-Level Marketing International Association) in USA, founding member of Direct Selling Association in Pakistan (DSAP) and Direct Selling Education Institute (DSEI) of Dubai, UAE.
AIM Global has 130 business center offices in the Philippines and has global offices in 19 countries namely Hong Kong, Singapore, Taiwan, Brunei, Papua New Guinea, UAE, Kuwait, Pakistan, Hawaii, Nigeria, Ghana, Kenya, Uganda, Togo, Ivory Coast, Cameroon, Tanzania and Rwanda.
AIM Global is categorized as "+AAA" business opportunity, Top 100 Solid MLM Direct Sales Company 2018, Top 10 Momentum Direct Selling Companies 2018, Founder/Director/CEO and Visionary President Dr. Eduardo Cabantog as one of the Ambassadors of Network Marketing – Hall of Fame 2018 by Business For Home and the top awardee in the Direct Sales category of Asia Pacific Entrepreneurship Awards 2017. For more information please visit: www.allianceinmotion.com