Andreea Cimbala $65 Million Earned In Network Marketing Life Time Earnings
October 26, 2018
By Team Business For Home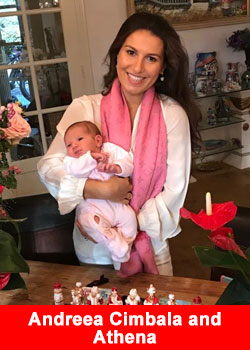 Just a couple of days ago, Igor E. Alberts and Andreea Cimbala, the top earners on Business For Home lists, welcomed to the world their second child, a girl named Athena Maxima Alexandra.
On this occasion, I contacted them to present my congratulations and got the opportunity to hold an interesting conversation with Andreea Cimbala, whom I already interviewed on the subject of motherhood shortly after the birth of the couple's first child.
Andreea:
"I'm fine and very happy. Childbirth is a hard time, for hours, testing your strength. But when everything is over and you see what you have created, it is a wonderful thing. You forget the pain and just want to hug that little creature and see that it's okay."
Andreea has always talked about motherhood as something that should not become an excuse for not achieving professional success, but as something that should motivate a woman even more.
"I always advise parents not to give up on their passion to be with their kids, family, friends…
When I was expecting my first child, Hermes, I started working harder than I had been so far, because I wanted to achieve as many goals as possible before the birth. Now, before my second daughter was born, I had done the same. I tried to do a lot to create the circumstances and the dream life I have always dreamed about.
I took Hermes with me all over the world, because I wanted to have my family with me and I combined motherhood and business. That hasn't always been easy, but it has been worth it. I had a professional nanny with me or my mother to help me take care of Hermes while I worked.
That way, I could give my best as a mom and as a business woman. But if you always stay at home with the children, at the end, you will have the same challenges with the bills when the month ends. You don't give enough to the business and you lose focus. It is better to have someone to help you in order to be able to dedicate more time to work and to create the best conditions for everyone, especially for your children.
When I started in this industry I did it because I wanted to design my own life, and network marketing really gives you that opportunity.
 I decided to start in the industry because I heard a key phrase for me: "You can work where you want, with whom you want and how you want." And I began to imagine myself as an entrepreneur, but above all, as a successful mother and business woman, because I always dreamed of starting a family and having children before turning 30. And since I'm a workaholic, I have never been afraid to work hard. Less when it's a job I love, the job of my dreams."
Listening to that, a question about a break would be inappropriate. But if we talk about her goals. The main ones have already been achieved.
"I will go on with my plans and I will continue fulfilling dreams. I will be a good example for my children. I want them to see what is achieved when you put all your effort into something. I want to continue to be a guide and an example of hope for all young people who are starting to find their place in network marketing, and of course I want to be an inspiration for other mothers who still don't believe they can truly succeed in network marketing. It's not common to see many of us on the top positions, but they say that when you don't find what you are looking for, you have to create it yourself, and that's what I did.
Igor and I, both of us, lead by example. We demonstrate that all the effort you make will be converted into results, and those results will be duplicated in your team. Our effort is creation, purpose, building a legacy, contribution."
Andreea has some words specially dedicated to all women and mothers in the industry:
"I also know that this is an industry that will allow me to fulfil all those dreams, to continue being a successful business woman that I want to be and to have my children with me. And I also want to be an inspiration for other mothers. I have shown that it is possible and I will continue to demonstrate it.
Tell me, what other industry or what other job gives you the freedom to decide your schedules, to work from home or from any other side of the world? None! That's why I'm so grateful to be part of it, and I've put so much energy and so many hours into being where I am now.
The truth is that more than 75% of networkers are women, but most of the time, we only see men on the top positions of high income earners. Women tend to leave their success and their dreams aside and become distracted by being only mothers or just good wives. We don't prioritize the business because we feel that this makes us bad examples as mothers.
Meanwhile, men have the full focus on work and thus reach the top positions. We all know that if you want great success you need to play big. What I did was to think like a man at the same time as a woman and as a mother. Give everything to reach the top and inspire other women to realize that you can succeed and be a good mother.
Women, and especially mothers, are capable of multitasking and combining more tasks and using all that in their favour. We are better at building a network than men, we meet people all the time, we talk more with people and we are interested in what they tell us, we are more sociable and we care about people. Because we already do all that for our children.
And when people start in network marketing, they start as babies, they are like toddlers, later they are teenagers. And our work is done when they become adults. So, a maternal point of view has its strength when it comes to training new networkers.
Women are amazing, we have enormous power inside us that we can use at the right time, in the most beautiful way, at the mesmerizing, sacrificing, painful and unique moment of CREATING LIFE.
Why wouldn't we be able to do anything else that we set out to do?"