Dino Nedelko Achieves Double Diamond Elite Rank With Rain International
October 9, 2018
By Team Business For Home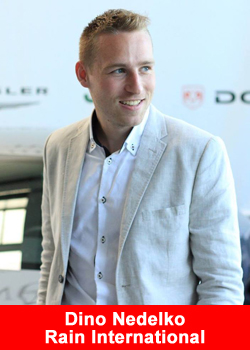 Dino Nedelko has been in network marketing industry now for three and a half years. He became the youngest Double Diamond Elite rank in Rain International history.
Coming from small country of Slovenia, Europe he started to build internationally at very early days of his career.
As of today his entire downline count is over 53,000 members that covers well over 40 countries worldwide from western part of America to the eastern part of Asia.
His biggest team is in Africa. He could write a book about his early days opening this special African market but he said there is no such a thing than being able to help people all around the world no matter which part of the world they are coming from.
Prior to become network marketing professional he was working in a car parts store in his own country for 7 years (during and after graduation from computer science). He said:
"Coming to the network marketing industry by the age of 27 and having no experience at all it was not easy. The biggest thing that always took me over all my challenges was the desire to do more and to change my life completely.

I always wanted to live abundant life. I would also say that 3 biggest components that helped me enormously and everyone should focus on are…
1. PASSION
Passion for the product or service that you are dealing with-if there is no passion forget about long term success. There needs to be this special connection.
2. HARD WORK
You have to be ready to work hard, you have to be ready to wake up one hour early and go to sleep one hour later then the most of the world. You need to compress time!
3. FOCUS
It's so sad to see so many people trying to get involved in 5 or more opportunities at once and hope that with small efforts and some "luck" they are going to have breakthrough. I do believe that luck doesn't play any major role if you are ready to apply this 3 things above.
CEO & Founder of Rain International Byron Belka added:
"One of the things I admire about Dino is he is a doer. He is always actively leading his team by example and doing something"

"You can't demand respect you have to earn it. I'm so impressed how Dino has done this. He makes a commitment and does it, he finds solutions, he really cares and supports his team, and even helps people outside his team. He is a leader who is easy to respect."
Dino Nedelko is also one of our recommended distributors at Business For Home .
About Rain International
Rain International is the original creator of seed-based nutrition. Our experts have gone to the source of plant nutrition to formulate products proven to support healthy lives.
Rain International is more than the products we sell. From the beginning, we set out to make changes to improve the world around us starting with the health industry and moving beyond its borders into global sustainability, education initiatives, elevated lifestyles, and more. We believe that the ultimate human experience we all crave is within everyones reach, and we dont mind leading the way. For more info please visit www.rainintl.com