Eric Worre Speaks Out About Fake News
October 9, 2018
By Team Business For Home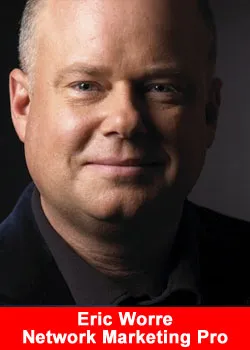 Eric Worre – An Open Letter To The Network Marketing Profession
I've been involved in the Network Marketing Profession, in various capacities since 1988. In 2009, I began providing training and support to the entire Network Marketing Profession in a generic way through my company Network Marketing Pro.
It soon became apparent, in order to deliver as much value as possible, that I needed to maintain a neutral position. Neutral might mean different things to different people. I am well aware that virtually all of the generic trainers in years past have at some point come out of retirement and wreaked havoc in the Profession so companies and leaders were understandably worried.
To me, neutral means that I will never be involved in a company as a Distributor, Employee, Owner or Shareholder. That commitment is for life. And I've provided it in writing to many different companies since then.
The services that myself and the Network Marketing Pro team provide to the Profession include:
Free training offered online:
Over 2,000 free training videos to date offered on various platforms.
Free Go Pro with Eric Worre podcast with over 1.1 million subscribers.
Free online content is currently viewed by more than 5 million people each week in more than 100 countries.
Products for sale:
The Go Pro book has been sold more than 2 million copies in 19 different languages – There is a variety of online courses available on many topics
Generic events:
Go Pro Recruiting Mastery is the largest generic event in the world and will soon celebrate it's 9th anniversary.
The Most Powerful Women in Network Marketing is the largest generic women's event in the world and will soon celebrate its 5th anniversary.
Beyond Leadership is an generic training experience for six figure earners and above and will soon celebrate its 3rd anniversary.
Corporate Services:
Keynote speaking and training at company event.
Corporate consulting.
Leadership development strategies.
Licensing arrangements for online training courses.
Corporate services are the reason for this letter.
As listed above, we provide services to dozens of different companies around the world. Those corporate relationships are sometimes short-term, when a company asks me to speak at their event, or maybe to consult with them on one particular project. Sometimes they are longer term, where a company will invest in their overall field development and training by taking advantage of a broader range of our services.
From time to time, distributors will blur the line and imply that we are involved in an ownership, corporate or field position.

If I ever use a company product, then everyone assumes I'm part of the company. If a family member becomes involved with a company, then everyone assumes I'm somehow involved behind the scenes.
Network Marketing Pro is a RESOURCE to many companies, but not an actual PART of any of them. We personally use many different products and services provided by the profession but we are not part of those companies.
We have family members involved in over a dozen Network Marketing companies, but we are not involved in any of them behind the scenes.
We are proud of the services we provide to companies. As a result, many of them are experiencing tremendous growth and momentum. Some companies still use us from time to time for specific events or projects and recently, even more of them are using our services for a complete training experience for their sales force. They know, as we do, that the field organization is truly the greatest asset of any Network Marketing company and that, in the end, the best trained field organization wins in the marketplace.
It's easy to see how people could become confused as to our role. By speaking on a company stage or on a company webcast, and praising that company or its products, it looks like an endorsement. And in a way it is. We support virtually all companies and virtually all products in our great profession. We support all of our friends in the field. We are your biggest fans and that spills over in everything we say and do. But we don't pick winners and losers. We don't favor one over another. And we certainly don't work as an agent for any company or field leader behind the scenes.
I hope this letter helps to clarify our position and to eliminate any misunderstandings in the marketplace. We look forward to serving all of you for many years to come.
Your friend,