Joe Martinez Achieves Global Ambassador Rank With Kuvera
October 9, 2018
By Team Business For Home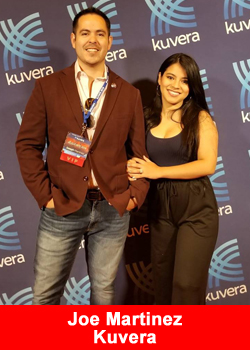 Every so often we hear of big hitters making huge personal home runs for themselves; the latest young gun to hit a million dollars, the prodigy with thousands of distributors in his or her team or the rising star that achieves the highest rank in record time.
Rarely do we hear about a different kind of difference maker, the silent heroes behind the scenes, balancing the needs of a company and those of its distributors in order to create something truly special where thousands and thousands of people can have the chance no matter where they're at, to be great.
What we love most, is the tale of success of a person that against all odds made something of him or herself, rags to riches if you will. Now imagine losing it all, and not making excuses, playing the cards that life dealt the best way possible and getting it all back and more, a comeback story.
Kuvera's newest Global Ambassador (that's over $65,000 per month) clearly understands that success is not about how good life has been to you, it's all about how good you make life for those around you. It's about becoming an impact player. That is the story of Joseph Martinez.
The New Mexico born and raised husband and father of three beautiful children hasn't always had the money, the cars, and the house on the golf course that most would equate with success. Matter of fact, the accomplishment that Joseph holds as his greatest achievement is his family and the freedom to be with them all the time.
Joseph got the chance to put his previous experience building massive international teams to good use consulting for various companies in the industry. Assisted by his mentor Bryan and his long-time business partner Kramer Nunez, also a 6-figure earner, Joseph focused on creating success for others, distributors and companies alike.

Leadership Spotlight – Joseph Martinez from Kuvera Global on Vimeo.
In so doing they came across a grand opportunity.
"I've been in the industry for 8 years, made over 7 figures, and was looking for a new opportunity when I came across Kuvera. I got to know the founders, products, mission, and vision and saw the makings of a legacy company.
The vision of a person being able to improve their financial situation through financial education, and the ability to benefit even without signing up a single customer was powerful. Customers could greatly benefit from Kuvera and see real results in their lives", says Martinez who saw the potential of the products and business model immediately.
Joseph teamed up with corporate and got more involved to lay the foundation for massive growth and sustainability in the areas of company infrastructure and international operations. He realized he could help by working behind the scenes to truly make Kuvera a legacy company.  A solid and stable company that would be innovative and cutting edge, at the vanguard of technological advancements within the Industry.
It's been 2 years since Joe joined Kuvera and he has made it his new home. He has been integral in making the opportunity available to, thousands upon thousands of people worldwide, from United Kingdom to Australia,  Los Angeles to Lima, Mexico to Japan.
 "The impact Joe has had on our company is enormous. He's worked tirelessly, stepping up to any challenges we've come across, assisted in multiple market launches, and helped us avoid mistakes. We are excited for Joe to be top leader in Kuvera and know this is the beginning of great things",
says Kuvera Founder & CEO Ryan Smith
Now that foundation has been laid, Martinez has recently made his way back to the field and is well on his way to becoming one of Kuvera's top leaders.
"I was inspired by the integrity and tenacity of the founders and continue to be. I am so honored to be part of Kuvera." says Joe who in just a few short months has built significant teams in the United States,  Latin America, Asia, and Europe. He plans on continuing the pursuit of Kuvera's mission of Abundance around the world and building a global business. But most importantly, he is helping men and women around the world to become greater versions of themselves, take control of their financial futures and live better, today.