Leading Direct Selling Companies are Turning To i-payout For Payment Solutions
October 17, 2018
By Team Business For Home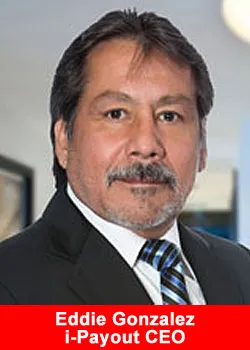 It's been a good year for i-payout. How good you ask?
 The Fort Lauderdale company, a leading worldwide payments management solutions provider, has 3 new clients listed in TOP 25 Direct Selling Companies.  Dig a little deeper and you'll find 5 clients in  TOP 100 Direct Selling Companies.
 I sat down with Eddie Gonzalez the CEO and Founder of the 11 year old software company – I wanted to know what it was about his payments management platform that enables it to act like a magnet for direct selling enterprises.
 "What is driving these high profile clients to i-payout, Eddie?"
According to Eddie Gonzalez it comes down to customization and reach.
"Our payments management platform is unique in that it's been purpose-built to be modified to fit the unique needs of the clients.  It's not a one-size-fits-all solution that is common in the direct selling space.
Every direct selling company has needs that are unique to them. The bigger players in direct selling are increasingly seeing i-payout as a payments partner who can deliver unique customizations and provide distributor development tools that drive engagement and sales".
And, when it comes to payments, all our clients need to do is indicate who to pay and how much to pay and they're done – we take care of the rest. 
Business For Home gets that – nobody wants to be limited to take-it-or-leave-it solutions. But the other competitive advantage you mentioned is reach. We asked Mr. Gonzalez to explain "reach".
He explained it this way:
"We have the ability to facilitate payments in places that competitors can't – or, if they can distribute payments into those areas the payment options they offer are very limited."
 "We go way beyond the  debit card payments. Our competitors often try to move their clients into debit cards because that's where they make their money, or, it's about all they have to offer.
We provide our clients with 13 convenient payout options (many of them very low cost) and  34 options for their distributors to choose from for paying-in. When you facilitate options for worldwide business transactions, business flourishes.  We provide the sales tools that promote activity and engagement and help direct selling companies and their distributors flourish – and we do that in over 150 countries.  
Mr. Gonzalez continued:
"So, our reach and customization capabilities are key among the benefits that direct selling companies are increasingly turning to i-payout. Once onboard, our clients have told us that they get far more management level supportwith
i-payout than they are used to getting. It's our practice to assign an Administrative Lead, an Engineering Lead and a Gatekeeper for Follow-up. The Gatekeeper acts like a traffic cop to make sure all request and tasks move smoothly ahead and without delay.
 We asked Mr. Gonzalez, "so what's next for i-payout?" He was quick to respond.
"In a few weeks we are releasing a white paper entitled "What Your Current Payments Provider Can't Provide Will Hurt You".
"We think it will be of interest to direct selling enterprises that haven't yet discovered that our capabilities will give them new competitive advantages".
About i-payout
i-payout is an award-winning financial software company that provides world-wide payment solution to its clients, and with that: comprehensive reporting tools, white-labeled branding, escheatment and tax withholding services, cash flow control and more.
The company, now in its 11th year, holds a unique position among its competitors – it is arguably unmatched in its ability to customize solutions and quickly integrate them to satisfy the individual needs of its rapidly growing client list.
For more information please visit www.i-payout.com