LifeVantage CEO Darren Jensen Awarded With The Business For Home Turn Around Award 2018
October 11, 2018
By Team Business For Home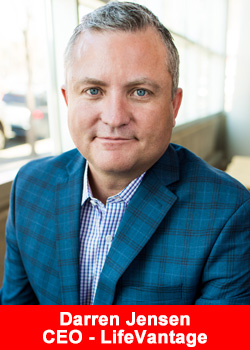 Business For Home is pleased to present its Turn Around Award for 2018 to LifeVantage's CEO and president, Darren Jensen.
This award is given each year to a CEO of a multi-level marketing company who demonstrates the ability to transform and turn a company around.
Darren Jensen, 49, has helped turn the company into one of the preeminent publicly-traded biohacking companies in the world. A biohacker in his own right, Jensen has emerged as a thought leader in the field of nutrigenomics.
The company isn't just building a product line but a community of biohackers and, as a result, is transcending transaction. People are not only identifying with LifeVantage products, but the company and its biohacking position are becoming part of people's identity.
Throughout his tenure at LifeVantage – and even more particularly in 2018 –  has helped lead the industry into the next era of network marketing.
He's done so by leveraging trends that are shaping the future and by cutting through the disruptive market forces that are changing how the industry does business.
"We have identified trends that are shaping the world today and positioned ourselves in front of those trends,"
Jensen said.
"And we've done it in unique and exciting ways that make network marketing cool. I'm tired of people apologizing for being in this industry. I don't want people apologizing for it – they need to be proud of it."
Recent achievements:
In November 2017, LifeVantage introduced Vitality Stack™ – the company's biohacker starter kit – to the market, further swinging the pendulum toward a family of biohacking products that build on and complement each other.
In January 2018, the company launched a portable version of Vitality Stack as an additional entry point for on-the-go customers who want to improve their health through biohacking. In August, Vitality Stack Packets was recognized with a Stevie Award for Best New Product or Service of the Year in the Health and Pharmaceuticals category in the 2018 International Business Awards.
Through Jensen's leadership, LifeVantage has significantly expanded the company's global footprint and is experimenting with new ways of doing business, including in China.
LifeVantage is formally doing business in more than a dozen markets worldwide. Jensen also charted an innovative Global Customer Program in April 2018, making LifeVantage products available to customers on a not-for-resale basis in 7 additional countries and simplifying how the company does business.
Jensen has helped the company stay not only on the cutting edge of science and product development but of technology, which is increasingly becoming a competitive edge for the company. The Company launched a brand-new app in 2018 that, powered by A/I, is gathering, aggregating, and, through machine learning, helping users build step by step, grow, and become more productive in their business with Uber-like ease.
The Company also introduced a unique customer acquisition program in 2018 in conjunction with LifeVantage's jersey front sponsorship of Major League Soccer's Real Salt Lake, providing a better experience for customers and a potential additional source of revenue for distributors. New customers in the U.S. are able to purchase products at LifeVantage's corporate website and are subsequently auto-assigned to distributors.
Jensen has leveraged these programs and advances in technology and parlayed them into increased customer retention rates (from 38% to 51%), increased distributor engagement rates (from 36% to 51%), and growing product subscriptions (as many as 80% of LifeVantage distributors and customers were on a product subscription in 2018).
2018 has also been a year marked by rising stock prices, and the company's stock performance has been among the best in the industry.
Jensen has also put a premium on the employee experience, and the company received a "Best Places to Work" distinction in the direct selling industry for the second year running in 2018.
Jensen was elected to the DSA board of directors during the during the Board of Directors meeting at the Association's 2018 Annual Meeting in San Diego. Jensen is also a member of the CEO Council for the World Federation of Direct Selling Associations.
About LifeVantage Corporation
LifeVantage Corporation (Nasdaq: LFVN) is a pioneer in Nutrigenomics – a new science dedicated to biohacking the human aging code.
The company is engaged in the identification, research, development and distribution of advanced nutraceutical dietary supplements and skin care products, including Protandim®, a line of scientifically-validated dietary supplements; TrueScience®, a line of Nrf2 infused skin care products; Petandim™ for Dogs, a companion pet supplement formulated to combat oxidative stress in dogs; Axio® Smart Energy Drink mixes; PhysIQ™, a Smart Weight Management System; and Omega+, a 3-in-1 fish oil supplement.
LifeVantage was founded in 2003 and is headquartered in Salt Lake City, Utah. For more information, visit www.lifevantage.com.