Marijuana Company Of America Appoints Ian Harvey As Global Sales Director Of hempSMART
October 13, 2018
By Team Business For Home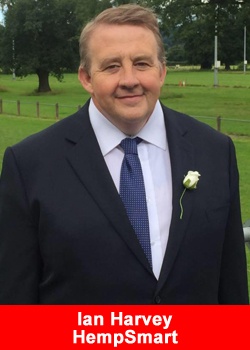 MARIJUANA COMPANY OF AMERICA INC. ("MCOA" or the "Company") (OTC: MCOA), an innovative hemp and cannabis corporation, is pleased to announce that the Company has appointed Ian Harvey as the Global Sales Director of its wholly-owned UK subsidiary hempSMART™, Ltd. in preparation for the Company's January 2019 product launch in Europe.
Under the guidance of Ian Harvey, hempSMART is preparing to launch its successful Network Marketing program and industrial hemp derived Cannabidiol (CBD) product line in Europe in January 2019, starting with the United Kingdom. Pre-registration for the UK is available by visiting www.hempsmart.co.uk.
Ian Harvey has been involved in the direct sales industry for over 35 years. Mr. Harvey has worked for and helped to develop several successful Blue Chip corporations in countries around the world including Japan, South Africa, the United States, and numerous European countries.
He has several years of experience launching new product brands, training programs, and implementing strategic approaches designed to capture large networks of loyal customers on an international level.
Donald Steinberg, MCOA CEO, commented, "We are very excited to add Ian Harvey to our hempSMART team. Throughout my career I have successfully launched several companies internationally, and with Mr. Harvey's experience and hempSMART's incredible product formulations, I see a unique opportunity to establish and grow our brand to become a household name in Europe and eventually worldwide."
Ian Harvey commented, "I am extremely excited to be appointed as the Global Sales Director for hempSMART. My goal is to make hempSMART a brand name recognized in households worldwide. It is a great feeling to know many lives will be transformed as we rollout out our expansion plans.
Our new Regional support center based in the UK is gearing up to get ready for what is expected to be a massive success story in Europe. We have started our prelaunch in the UK with a vision of being fully launched in January. Once launched, we will then move forward with a very ambitious rollout program to include several European countries along with other Global markets."
About Marijuana Company of America, Inc.
MCOA is a corporation which participates in: (1) product research and development of legal hemp-based consumer products under the brand name "hempSMART™", that targets general health and well-being; (2) an affiliate marketing program to promote and sell its legal hemp-based consumer products containing CBD;
(3) leasing of real property to separate business entities engaged in the growth and sale of cannabis in those states and jurisdictions where cannabis has been legalized and properly regulated for medicinal and recreations use; and, (4) the expansion of its business into ancillary areas of the legalized cannabis and hemp industry, as the legalized markets and opportunities in this segment mature and develop.