Money + Time: New TLC National Directors Raul and Lillian Juarez
October 10, 2018
By Nicole Dunkley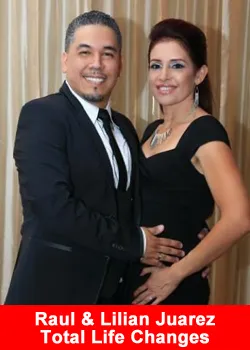 We often look at success through the prism of income and personal advancement, but there's a lot more to life than work. Just ask Raul and Lillian Juarez of Sugarland, Texas.
"Why did we take on this new [TLC] opportunity? Well, we had plenty of money from running our own traditional businesses, but we had no time to ourselves. Missing holidays, moments in our children's lives, the peace of simply being at home… it isn't easy," says Raul. "TLC gave us the chance to put that conflict behind us."
Raul is a former 14-year marine veteran and law enforcement professional who decided to form his own company in 2001. With his wife Lillian, a native of El Salvador, the Juarez family also includes two growing children. Watching them grow has instilled the importance of good health into the couple's mindset, making them the perfect audience for TLC's brand philosophy.
In 2015 the couple encountered TLC's products for the first time, and felt that they had discovered a path to better physical health—and financial health as well. While their original sponsor decided to move on to other endeavors not long after bringing them on board, they soon found themselves part of a winning team.
"The situation worked out perfectly for us, because we were ultimately blessed with a new sponsor named Julio Lama," says Lillian. "Julio is a legend and a seven-figure earner in the network marketing profession, and his passion really aligned well with our own."
The pair set an immediate goal of reaching the National Director rank, and quickly moved through the lower levels of TLC's hierarchy of compensation.
"Total Life Changes leadership, products, system, payment plan, and code of ethics were just some of the many reasons we joined this first-class company," says Raul. "Everyone involved, from corporate to our fellow Independent Business Owners, has made us feel like family. They strive to help us succeed and reach our full potential."
He also notes that feeling a direct connection to the company's executives has contributed strongly to the couple's sense of belonging. "Mr. Jack Fallon, the owner of Total Life Changes, is among the most genuine, caring, humble, professional people I have ever met."
Besides the significant boost in income which they have received from their TLC business, they claim that the products have had a strong positive effect on their health and the health of those they work with. "If I could write about the hundreds of testimonials I've received from clients and team members, I would need to write a book. So many of them have seen some truly powerful results." Now with a greater degree of financial freedom than they've ever experienced before, the couple say they intend to continue to grow their part-time TLC business, and to spend more time with their kids as they dreamed of before the Total Life Changes opportunity came their way.
About Total Life Changes
Total Life Changes offers a diverse product portfolio of health, wellness and beauty products. Founder and Tea Executive Officer Jack Fallon created TLC over 16 years ago with a single product: NutraBurst®. Since that time, TLC has continued to develop the Iaso® brand of products to include a diverse and attractive product portfolio matched with a hybrid binary compensation plan that allows IBOs of TLC to be rewarded quickly for introducing new customers to our products and business opportunity. Find out why so many are saying, "It really is different over here."