Sharing Services Names Network Marketing Industry Icon Larry Thompson As New Business Strategist
October 4, 2018
By Team Business For Home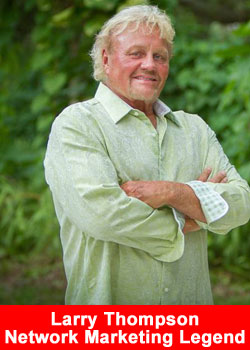 Sharing Services, Inc. (OTCQB: SHRV) ("the Company") announces it has retained the services of Larry Thompson as its business strategist, effective immediately. Mr. Thompson, founder of global strategy firm LT Wealth Building Academy, will be advising on the launch of Elepreneurs 2.0, debuting in November 2018.
Larry Thompson is a name that has become synonymous with direct selling/network marketing. Throughout a career spanning 50+ years, Mr. Thompson has been guided by principles and values that supported a vision for a home-based business opportunity that enables ordinary people  to work toward achievement of short-term financial objectives and the possibility of making some dreams come true. Mr. Thompson is well-renowned as the mastermind who founded Herbalife International, the third-largest direct selling company in the world.
As a much sought-after global direct selling influencer described by the Wall Street Journal as an "Architect of Wealth Building" responsible for achieving over $30 billion in sales globally at various companies, Mr. Thompson, along with his wife Taylor, founded LT Wealth Building Academy in 2018.
The academy provides business services for global network marketing companies seeking sustainable growth strategies.  Over the years, Larry and Taylor Thompson have advised hundreds of companies around the world about strategic and tactical practices focusing on core business fundamentals that blend successfully with today's technology.
Sharing Services Chairman Robert Oblon said of Larry Thompson,
"Without a doubt, Larry Thompson represents a wealth of knowledge in terms of how to build successful companies.
Through Larry's vision and leadership, he has achieved more than $30 billion in sales during his career.

In the process, Larry also helped elevate thousands of lives, possibly a few hundred thousand lives, making him one of the most respected industry strategists.
As an outside business strategist, he provides our Company with unprecedented business acumen. His acumen, ability and vision will help us develop Elepreneurs into a next-generation company that embraces the assets of freedom, flexibility and other gig economy attributes in addition to the benefits associated with a direct selling/network marketing business opportunity."
About Elepreneurs LLC.
Founded in 2017, Elepreneurs, a wholly owned subsidiary of Sharing Services, Inc. (OTCQB:SHRV), is a network marketing company that is elevating entrepreneurship opportunities for home-based independent sales representatives.
The company exclusively markets several brands under a unified compensation plan, including: Elevacity Global, Medical Smart Card, LEH Insurance Company, Hooray Health, Total Travel Media, Four Oceans Explorer, Imagine University and LD Legacy. Elepreneurs is headquartered in Plano, Texas. For general information on our products and services, please visit www.Elepreneurs.com.
About Sharing Services, Inc.
Sharing Services, Inc. is a diversified holding company specializing in the direct selling industry. SHRV owns, operates, or controls an interest in a variety of companies that either sell products to the consumer directly through independent representatives or offers services that range from health and wellness, energy, technology, insurance services, training, media and travel benefits.
Visit https://www.SharingServicesInc.com, call 469-304-9400, or email [email protected], to learn more.