Trump Family Accused Of Fraudulent Scheme In ACN Class Action Lawsuit
October 30, 2018
By Team Business For Home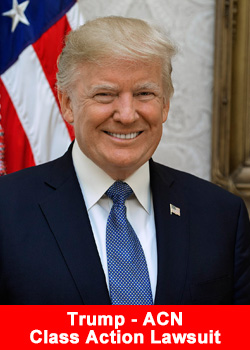 Four anonymous individuals filed a class action lawsuit in the Southern District of New York on Monday. The plaintiffs are accusing the president, Donald Jr, Eric, and Ivanka Trump of conning the victims into giving up hundreds of thousands of dollars. They say the losses were devastating and life-altering in 164-page filing.
 Trump 'falsely represented that he genuinely supported ACN and failed to disclose that he was being paid lavishly for his endorsement,' the suit states
The president even featured the company on Celebrity Apprentice twice.
Four anonymous individuals have filed a class action lawsuit accusing President Trump and his children Donald Jr, Eric, and Ivanka of 'deliberately defrauding' them by falsely representing a multilevel marketing firm, DailyMail.com can reveal.
In a 164-page complaint filed in a U.S. District Court in New York on Monday, the group claims the Trumps 'made millions' by endorsing the training programs of North Carolina company ACN Inc., which in turn, conned victims out of 'hundreds or thousands of dollars.'
The plaintiffs allege that from 2005 to 2015, the president 'falsely represented that he genuinely supported ACN and failed to disclose that he was being paid lavishly for his endorsement of the company.'
In addition, the suit claims Trump falsely stated that his support for the company was predicated on appropriate due diligence and personal experience with ACN's business and lied to investors saying his endorsement was 'not for any money.'
The suit states, however, that in exchange for 'large payments,' the Trump Enterprise misled prospective investors by claiming they would have a reasonable probability of commercial success if they bought into their services.
But the group claims the Trumps 'were aware' that the majority of consumers would actually lose whatever money they invested in ACN's program.
The four plaintiffs, two women and two men, are described in the suit as 'working-class Americans' who participated in the scheme because of Trump's 'fraudulent' endorsements. The program offered 'independent business owners' (IBOs) an opportunity to earn money through commissions on sales of products and by recruiting other IBOs.
According to documents, from 2013 to 2016, ACN's sign up fee was $499 and the renewal fee was $149. IBOs also paid 'substantial' fees to attend ACN events, many of which featured Trump as a keynote speaker.
However, most IBOs had very little financial success and an investigation of ACN by the Montana Commissioner of Securities and Insurance actually found that the costs associated with the IBOs' investments 'were over ten times greater than their returns,' the suit states.
Trump, himself had advocated for the company in speeches, videos and publications, and even featured ACN on the Celebrity Apprentice twice, according to a 2015 report by The Wall Street Journal. One plaintiff, identified as Jane Doe, claims she invested in ACN after listening to Trump promote the company on the Celebrity Apprentice in 2014.
'In the two years that followed, Doe paid thousands of dollars of fees and expenses to attend ACN events in an effort to succeed with the business. But ultimately, she had extremely limited success – she earned a single check for $38,' the suit states. Two episodes in 2011 featured teams of entertainment figures competing to promote versions of a video phone sold by the firm.
Trump was also quoted in a news release endorsing the phone saying: 'I think the ACN video phone is amazing.' I simply can't imagine anybody using this phone and not loving it.'
The phone was ultimately eclipsed by smartphones and was considered a commercial failure, according to the suit.
It was later revealed through financial records that Trump had received $450,000 each for three appearances he made at ACN events between May 2014 and February 2015. However, Trump never disclosed he was being paid to tout the company's products in any of these events.
Trump, who was only a presidential candidate at the time the Wall Street Journal article was published, had told the outlet he has been transparent in his role with ACN and claimed he knew 'nothing about the company.'
I'm not familiar with what they [ACN] do or how they go about doing that, and I make that clear in my speeches,' Trump is quoted.
ACN, is run by company president Greg Provenzano, who is not mentioned in the suit.
As first published by www.dailymail.co.uk