Diego Moreno – Achieves Six-Figure Income As A Network Marketing Professional
November 17, 2018
By Nicole Dunkley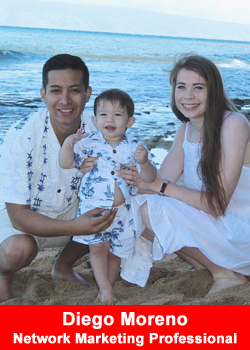 Born and raised in Lima Perú, Diego Moreno reminisces on his upbringing and journey in life which has brought him to where he is today as a successful Entrepreneur.
My grandparents raised me until I came to the United States at the age of 13 years old. Even though I did not have the opportunity to grow up with my parents, the Lord blessed me with amazing grandparents, who today I call Mom and Dad.  They always made sure my sister and I had everything that we needed in Perú.
"Circumstances beyond my control, put me in a situation that many kids that age wouldn't want to be a part of.  By the time I reached the age of 14 living in the U.S., I was homeless and moving from home to home always thinking what I was going to do next",
recalls Diego Moreno.
Since I was miles and miles away from my home, it was hard to understand why life had been so hard, at such a young age. I would look at other families celebrating Christmas and birthdays while I, alone in a room would video call my family back home in Perú.
When I look back at these times, I remember how difficult it was and know inside that these experiences made me stronger.
At the age of 16, I was introduced to Network Marketing by a young man at a Carl's Jr. while I was working a night shift on a Saturday night.  He seemed successful and was willing to help me.  He picked me up the following Tuesday and took me to my first Network Marketing weekly meeting.
Since that day I knew this industry was exactly what I was looking for to help me change my position in life.  It was not easy for me right out of the gate, and after spending some time building the business, I realized that this industry was probably the hardest thing I would have to master in order to be financially successful.
It was going to take a lot of work and failure. I knew this industry was a career and like any other career it was going to take time. For a while I held part-time jobs while building different companies getting to know people along the road and cultivate new relationships.
Everything changed quite drastically for me, when I met my wife and was introduce to my mentor in 2016. Have you ever heard the saying that everyone needs a WHY? Well, my wife became my major motivation. No one has ever push me as hard as she did.
I had to change my friends, routines, and never missed a company conference call. I realized that I was missing a lot of things, and one of them was organizational skills.  My wife's strengths complemented my weakness, and my strengths complemented her weaknesses.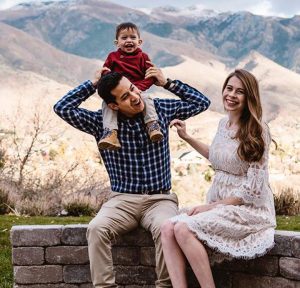 I had the potential, but talent is nothing without focused work and organization. I am blessed that my wife helped to bring out these areas in my life. My Mentor prepared me for financial fitness in Crypto-Currency, and he showed me everything he knew, plus coached me in areas I was lacking success.
Late night calls, and 2 to 4 hours sleep per night, did paid off. Our team has expanded to over 8 thousand representatives in 20 countries in 6 months. Our business has afforded us the opportunity to travel across the country helping hundreds of people to improve their finances.
When I look back at my journey in this Industry, I realize a few key characteristics that set the true leaders apart from the rest:
 I believe the difference maker is in having passion and vision. I've seen thousands of people join and quit, and sadly a high % of people will quit during the hard times.
The 6-Figure Earners understand this Industry and understand that there will be hard times everywhere. In 2014, when I was washing cars for a living and it was freezing cold outside, I only made enough money to get by.  That's why I pushed hard in business, because I knew how bad things could be, and I've been there.
Life is difficult out there, and I see what Network Marketing has done for my family and can do for many others. In the last year we've taken 34 flights…some for pleasure and some for work. The best thing about my profession is I take my work wherever I go.
In November 2017, after a year of building our team and organization, I earned my first 6 Figure Income in this industry.  The best part was watching my team making money.
I've generated $1.5 Million dollars in Individual sales, and group sales of $2.3 Million dollars in Crypto-Currency sales. I reached a 6-figure rank and won an incentive trip to Mexico.
If I could offer advice to someone that is trying to achieve their goals to work wherever they want and on their own terms, do not be embarrassed to share what you have to offer.  When choosing/researching a company, pick one that is the best fit for you and can take you to where you want to go.  This is a people business and sometimes when we think too much about it, we over complicate things. Work hard on your calls and connecting with others. Work on consistently attending meetings and growing your relationships.  It does not matter how bad a situation is, if you always remember to take care of your team!
Ranking in the top 5 with 3 other of my Leaders out of 15+ thousand Distributors in the Company. Today, my wife and I have opened a consulting company call A & D Global that helps companies with sales growth. I have begun writing a book that will be announced on 2019. My life has changed a lot on this last 13 years but it has taken work and a lot of sacrifice.
Over the past 3 years, my family and I have been able to live the life and build an organization of our dreams.
The key was discipline, persistence, hard work and most important a WHY.
If you are interested in finding out more about what we are doing as a team, I invite you to connect with me to learn more about our team culture. Our team culture sets us apart because we operate as a family, and we deliver results. We won't let you work alone!