LifeVantage-sponsored Anthony Robles Sets New Pull-up World Record
November 13, 2018
By Team Business For Home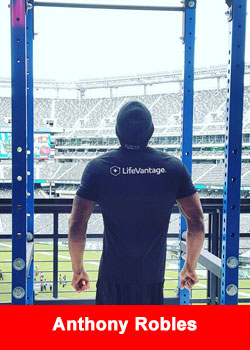 Anthony Robles — a one-legged wrestler who won the 2011 NCAA 125-pound title and long-time LifeVantage consumer — broke the world record for pull-ups in a single minute over the weekend, pending final Guinness verification.
Robles, who turned 30 in July, cranked out 62 pull-ups Sunday during the NY Jets- Buffalo Bills game at MetLife Stadium in East Rutherford, New Jersey, besting Harvard Professor Adam Sandel's previous record of 61.
Robles' world record attempt was sponsored by Nike, Freemotion Fitness, and Sandy- based LifeVantage.
"Anthony embodies so much of what LifeVantage and our biohacking community are about," said LifeVantage CMO Ryan Goodwin. "This is someone who, against all odds, has optimized his body and physical performance at the highest possible levels. His is a truly inspiring story."
Robles' NCAA title attracted worldwide attention and helped earn him ESPN's "Jimmy V Award for Perseverance" and a second Espy Award for "Best Male Athlete with a Disability." A movie about Robles' life is currently in the works.
About LifeVantage
LifeVantage Corporation (Nasdaq:LFVN) is a pioneer in Nutrigenomics – a new science dedicated to biohacking the human aging code. The company is engaged in the identification, research, development, and distribution of advanced nutraceutical dietary supplements and skin and hair care products, including Protandim®, a line of scientifically- validated dietary supplements;
TrueScience®, a line of Nrf2-infused skin care and hair care products; PetandimTM for Dogs, a companion pet supplement formulated to combat oxidative stress in dogs; Axio® Smart Energy Drink mixes; PhysIQTM, a Smart Weight Management System; and Omega+, a 3-in-1 fish oil supplement. LifeVantage was founded in 2003 and is headquartered in Salt Lake City, Utah.
For more information, visit www.lifevantage.com.