Rachel And Javier Garcia – PURE Achieve Chairman Black Diamond Rank
November 1, 2018
By Team Business For Home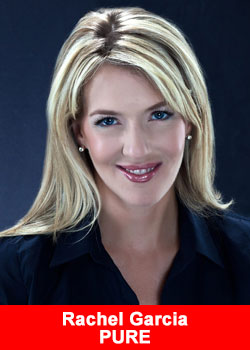 According to a PURE press release:
PURE is pleased to announce that Rachel and Javier Garcia, Independent Business Owners (IBOs), achieved the prestigious rank of Chairman Black Diamond this week.  Through the company's PURE Rank Bonus program, the Garcia's received a bonus for $37,500 on top of their weekly commissions.*
"The ability to build true residual income working part time from home is just a dream for so many but has become real life for us and so many on our team,"
said Rachel Garcia.
"If you haven't looked at PURE yet, don't wait. We won't be the company no one has heard of much longer."
The Garcia's started many businesses over the years and when they found PURE they jumped in with both feet and discovered life-changing results. They have found the business model to be the absolute best way to bring an additional income stream into their home, working when they want to, with the people they want to work with.
"Rachel is one of the best examples of work ethic; she has mastered consistency and persistency, two of the most critical elements of high-level success in our profession and we are proud to see her winning big at this level,"
said IBO Jared Burnett.
"Jared and I are so proud of Rachel for the environment she provides for her team," said IBO Heather Burnett.
"She works tirelessly for them and is creating a beautiful lifestyle for her family " 
IBOs Rachel and Javier Garcia live in Jacksonville, Florida. The Garcia's joined PURE in August 2008 and love spending time with their family, traveling and playing soccer. Rachel's favorite product by PURE is Mila. They share the PURE opportunity and products every chance they get.
"Leaders like Rachel and Javier are what set PURE apart from other companies," said Sam Crossley, Sales Director.

"They genuinely care about individuals and lead by example!"
"I am very proud to honor Rachel and Javier for this great achievement," said PURE CEO, Daren Hogge.
"Their desire to help others live healthier lives is certainly worthy of recognition!"
The PURE opportunity gives people the chance to earn weekly residual income. In addition, through the PURE Rank Bonus, IBOs receive bonuses and incentives. Beginning at the rank of Platinum Director, awards through the program range from $1,000 USD all the way to $250,000 USD.*
About PURE
PURE: People United Reaching Everyone is a leading innovator in health and wellness products. PURE is dedicated to delivering Whole Healthwith high-quality products for physical health, opportunity for financial health, relationships for personal health and social impact for philanthropic health. PURE is a global company with offices in the U.S., Taiwan, Thailand and Korea, with headquarters in Frisco, Texas. For more information on the products or business opportunity, visit https://livepure.com/.
*The earnings of the distributors in this publication are not necessarily representative of the income, if any, that a PURE distributor can or will earn through his or her participation in the PURE Prosperity compensation plan. These figures should not be considered as guarantees or projections of your actual earnings or profits. Success with PURE results only from successful sales efforts, which require hard work, diligence and leadership. Your success will depend upon how effectively you exercise these qualities. For detailed information on IBO income averages, visit livepure.com/IDS.
The PURE Rank Bonus amount listed is the maximum bonus potential for the rank achieved. All executive ranks and above are paid in installments provided certain thresholds are met. See the PURE Rank Bonus Promotion Terms and Conditions for qualification, maximum bonus rank and payout details. For more information on the PURE Rank Bonus, visit livepure.com/PRB.