Total Life Changes Makes Top 25 in Direct Selling Momentum Ranks
November 13, 2018
By Nicole Dunkley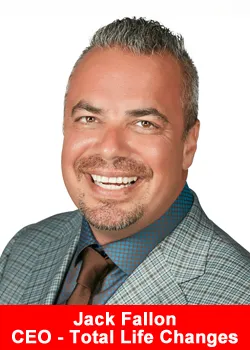 Total Life Changes' mission is simple: to provide Independent Business Owners and their customers with a diverse set of products that are easy to sell and healthy to share.
By doing so, they have harvested a health and wellness community made up of thousands of people all over the world and allowed them to build a brighter future. It is exactly this kind of passion and practice that has helped land TLC in the top 25 direct selling momentum ranks.
Direct selling momentum ranks were determined based on a number of key metrics, such as Facebook ranks, reviews, polls, and more. Momentum happens when a new company or product(s) launches, successful executives and leaders come in, new countries open, and international conventions are held. Let's take a look at how TLC has created momentum.
What started as a garage start-up '99, has lead to the multimillion-dollar global enterprise it is today. With over 15 offices, 200 employees, and more than 85,000 active independent business owners (IBOs) worldwide, TLC has the momentum and is only going to grow from here. In fact, they have most recently launched manufacturing in Australia in order to open up more business worldwide!
TLC always stays hungry for more, which is one of their core values they continue to stand by.
At TLC, we must stay ahead of the curve and strive for more. We are always looking for a better way to do things and we want to cultivate a company culture that thrives on this concept. We can never become complacent or be satisfied with the norm. 
TLC's company culture is also an integral part of their success. TLC has created a welcoming company culture that mirrors a true sense of family, and it's filled with IBOs, executive staff, and customer service agents.
Every Friday at 2 PM EST, TLC's executive staff goes live on Facebook to recognize the top retailers, top enrollers, best weight loss testimony, and new ranks that were achieved the previous week during their 'Fun Fridays'.
They also throw in some fun incentives, dance parties, and popular deals to keep it interesting (and fun). Tune into Facebook Live with TLCHQ on Fridays and you will see why Total Life Changes calls themselves one big happy team (family).
Evidently, there is no doubt that TLC believes in having fun in order to get work done, which happens to be another one of their core values.
In order for us to operate at peak performance, we must have fun and be excited about what we do. Fun can be a catalyst for new ideas and problem-solving.  
They have CEO Jack Fallon to thank for that. His relentless effort to provide quality products and excellent financial opportunities to others in a fun all-inclusive environment has enabled TLC's business family to flourish into what it is today. We can't forget about their worldwide IBOs, who continue to make this direct selling industry one of the best!
"TLC has been recognized in the Top 100 Global Direct Selling companies the past few years and we are now being recognized as one of the 250 largest direct selling companies in the world (2016 v 2017). We are honored and blessed to represent this amazing industry!"     
Total Life Changes also thrives on consumer success stories. Check them out here and get inspired to totally change your life!
About Total Life Changes
Total Life Changes offers a diverse product portfolio of health, wellness and beauty products. Founder and Tea Executive Officer Jack Fallon created TLC over 16 years ago with a single product: NutraBurst®. Since that time, TLC has continued to develop the Iaso® brand of products to include a diverse and attractive product portfolio matched with a hybrid binary compensation plan.
This allows IBOs of TLC to be rewarded quickly for introducing new customers to their products and business opportunities. Find out why so many are saying, "It really is different over here."