Youngevity Founder Dr. Joel Wallach Featured In Documentary
November 20, 2018
By Team Business For Home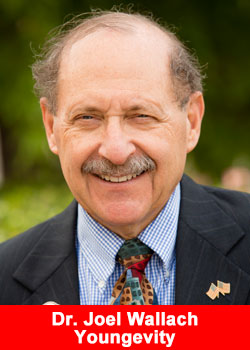 Youngevity International, Inc. (YGYI), a leading omni-direct lifestyle company announced that Carpe Canum Media released "The Audacity of Health: The Dr. Joel Wallach Story," a documentary on the Youngevity founder.
It follows Dr. Wallach's life and career from his early work in the 1960's studying one of the first mass (animal) die-offs from pollution and helping to save the White Rhino in Africa, to his work in the 70's discovering the correlation between nutritional deficiencies in animals and disease, and how it extends into humans.
It also looks at Dr. Wallach's successful petition to get the FDA to include specific nutrients like folate and selenium as required dietary nutrients and for all supplement manufacturers to allow disease risk claims on nutritional supplements.
Steve Wallach, Youngevity CEO, who narrated parts of the documentary stated, "I lived many of the events chronicled in this film, seeing it come to life is a magical milestone.  The Audacity of Health is a very fitting tribute to my father Dr. Joel Wallach.
I am appreciative of the almost two years of work and research that Carpe Canum Media and all those involved in bringing this documentary to life." He continued,
"This documentary, already being viewed in 42 countries, is a powerful validation of my father's life work and the positive impact my father has had on health and wellness around the world."
Dr Joel Wallach said, "It's been my Life's Mission to educate the Public about the importance of proper nutrition, I believe this film by Carpe Canum will further this mission by reaching tens of thousands possibly hundreds of thousands of People, I am thankful to all those that have contributed to make this film a reality."
To help promote the documentary Youngevity took advantage of Facebook's new "Facebook Premier" feature to have a global showing of the documentary.
The Premier post was viewed by over 30,000 people, 4,600 video views, over 9,000 engagements and more then 1,000 comments. The post continues to be on Facebook as engagements continue to grow. In addition, the documentary has been viewed over 2,600 times on "The Audacity of Health" website located at www.joelwallachdocumentary.com.
So far the viewership spans 42 countries and has been watched in all 50 states of the US.
"The Audacity of Health: The Dr. Joel Wallach Story," is available on demand at joelwallachdocumentary.com and has subtitles in Spanish, Russian, Chinese and Japanese. The site will identify the user's language based on incoming URL's that will automatically direct them to the right version of the movie.
About Youngevity International, Inc.
Youngevity International, Inc. ( NASDAQ : YGYI ), is a leading omni-direct lifestyle company — offering a hybrid of the direct selling business model, that also offers e-commerce and the power of social selling.
Assembling a virtual Main Street of products and services under one corporate entity, Youngevity offers products from the eight top selling retail categories: health/nutrition, home/family, food/beverage (including coffee), spa/beauty, fashion, essential oils, and photo, as well as innovative services. The Company was formed in the course of the summer 2011 merger of Youngevity Essential Life Sciences with Javalution® Coffee Company (now part of the company's food and beverage division).
For investor information, please visit YGYI.com. Be sure to like us on Facebook and follow us on Twitter.