A Product of the Product: New Total Life Changes Global Director Jacqueline Birchfield
December 8, 2018
By Nicole Dunkley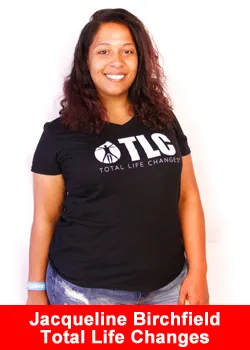 Multi-level marketing is a difficult business to break into without a great deal of hard work and supportive networks of friends and family to help new Independent Business Owners (IBOs) establish themselves. Fort Wayne, Indiana's Jacqueline Birchfield, however, had the perfect in: her father Phillip.
Phillip Birchfield has been a mover within the world of network marketing since his enrollment in Total Life Changes, recently having graduated to the rank of Global Director. The strong performance of his own family in the business has driven his success, which has in turn pushed Jacqueline to the top. With that said, while she was a fan of the products her father had introduced her to, she didn't immediately see herself moving into the business herself.
"I was drinking Iaso Tea because it made me look and feel better," says Jacqueline. "I'd lost two pant sizes, and I was very happy with my experience. But I was shy about telling people there was a product helping me make these improvements, and I felt weird about the idea of selling it. But eventually I just couldn't deny my belief in the TLC line, and I decided to say 'yes' to the greater opportunity it offered."
A 25-year-old mother of two, she says she realized she had a chance to leave behind a legacy for her family and to live a life outside the world of work that school had pressed upon her.
"My dad and my late grandma, Edna Ellis, became six-figure earners. I saw in their examples a chance to be that person in people's lives who helped them believe they can do everything they want to do in life!
"I grew up seeing my parents struggle to pay bills and deal with their health. To see my father well off and to see the same for myself in the future blows my mind."
Jacqueline says her public speaking skills have dramatically improved, along with her education about what having a truly healthy body actually means. Over the past four years, her TLC family has been there for her through the birth of her second child, her graduation from college and more. She was able to walk away from corporate America as a regional director at 23, focusing on TLC full time while being a stay-at-home mom.
Looking to the future, Jacqueline says her short-term goals are currently to lose 30lbs and to accept a $250K earner ring at the company's Dallas 2019 conference. In the longer term, she wants to "take over" her hometown of Fort Wayne and help even more stay-at-home moms like herself become financially independent.
"I am truly a 'product of the product.'"
About Total Life Changes
Total Life Changes offers a diverse product portfolio of health, wellness and beauty products. Founder and Tea Executive Officer Jack Fallon created TLC over 16 years ago with a single product: NutraBurst®. Since that time, TLC has continued to develop the Iaso® brand of products to include a diverse and attractive product portfolio matched with a hybrid binary compensation plan that allows IBOs of TLC to be rewarded quickly for introducing new customers to our products and business opportunity. Find out why so many are saying, "It really is different over here."