Herbalife Nutrition Extends 20-Year Relationship with the American Red Cross
December 20, 2018
By Team Business For Home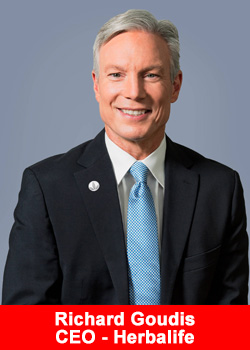 Herbalife Nutrition
(NYSE:HLF), a premier global nutrition company whose purpose is to make the world healthier and happier, today announced an extension of its 20-year tradition of supporting the American Red Cross and in turn, the people they serve.
In addition to committing, for the fourth consecutive year, to donate Protein Deluxe Bars with a total retail value of $500,000 to 120Red Cross blood donation centers across the U.S., Herbalife Nutrition employees and independent distributors will continue to participate in Company-hosted blood drives.
"Our partnership with the American Red Cross is built on the shared principles and values of helping others, and we look forward to further collaboration in providing nourishment to those who donate blood throughout the year and to survivors and victims of disasters,"
said Alan Hoffman, president of the Herbalife Nutrition Foundation.
Most recently, Herbalife Nutrition independent distributors and employees generously participated in U.S. and international relief efforts, helping people affected by disasters including Hurricanes Florence, Irma, Maria and Harvey, as well as the California wildfires.
"We are grateful for our longstanding partnership with Herbalife Nutrition, whose generous support of the American Red Cross mission helps save lives,"
said Cliff Numark, senior vice president of American Red Cross Biomedical Services.
"Herbalife Nutrition's commitment makes a meaningful and compassionate difference, inspiring others to give the gift of life and to alleviate suffering in times of crisis."
For over 20 years, blood donations from the more than 50 Company-hosted blood drives, combined with the donations collected on the Herbalife Nutrition bloodmobile that covers Southern California, have saved countless lives. Also, since 2008, an Herbalife Nutritionexecutive has actively participated as a member of the board of directors of the American Red Cross Los Angeles Region.
"Herbalife Nutrition provides leadership in their communities and has helped the Red Cross deliver hope and support to those who need it most,"
said Jarrett Barrios, CEO of the American Red Cross Los Angeles Region.
"We are very thankful for their continued support of our live-saving mission here in Los Angeles and across the country."
To learn more about Herbalife Nutrition, visit Herbalife.com. To receive the latest Company updates, follow us on Twitter: @HerbalifeNews.
About Herbalife Nutrition Ltd.
Herbalife Nutrition is a global nutrition company whose purpose is to make the world healthier and happier. The Company has been on a mission for nutrition – changing people's lives with great nutrition products and programs – since 1980. Together with our Herbalife Nutritionindependent distributors, we are committed to providing solutions to global trends of poor nutrition and obesity, a population that wants to age in a healthier manner, skyrocketing public healthcare costs as well as providing an opportunity to meet the needs of the rising number of entrepreneurs.
Herbalife Nutrition offers high quality, science-backed products, one-on-one coaching with a Herbalife Nutritionindependent distributor, and a supportive community approach that inspires customers to embrace a healthier, more active lifestyle. The Company's direct sales model provides individuals with an entrepreneurial business opportunity to be their own boss and work either full or part-time.
Herbalife Nutrition's targeted nutrition, weight-management, energy and fitness and personal care products are available exclusively to and through its independent distributors in more than 90 countries.
Herbalife Nutrition supports the Herbalife Nutrition Foundation (HNF) and its more than 130 community-based Casa Herbalife Nutrition programs around the globe that help bring good nutrition to children. The Company and HNF also provide aide to organizations focused on the general wellness of communities such as the American Cancer Society, Save The Children and the American Red Cross.
Herbalife Nutrition is also proud to sponsor more than 190 world-class athletes, teams and events around the globe.
Herbalife Nutrition has approximately 8,300 employees worldwide, and its shares are traded on the New York Stock Exchange (NYSE: HLF) with net sales of approximately $4.4 billion in 2017. To learn more, visit Herbalife.com or IAmHerbalife.com.